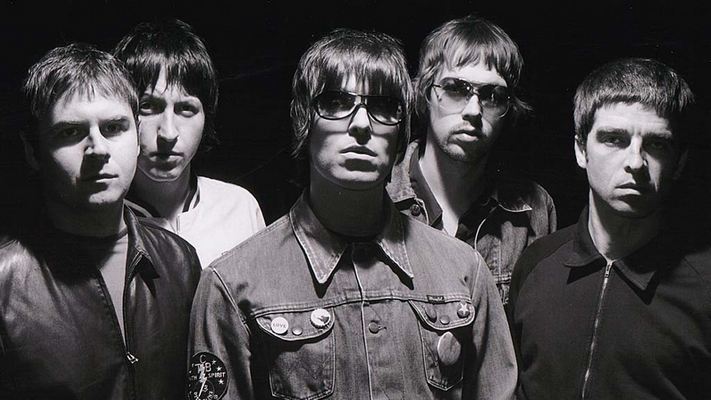 Oasis – Discography (1994 – 2014)
EAC Rip | 46CDs + 2DVDs | FLAC Image + Cue + Log | Full Scans @300 dpi, JPG, Included
Total Size: 23.9 GB | 3% RAR Recovery
STUDIO ALBUMS | LIVE ALBUMS | COMPILATIONS | BOX SETS
Label: Various | Genre: Alternative Rock, Britpop
Oasis shot from obscurity to stardom in 1994, becoming one of Britain's most popular and critically acclaimed bands of the decade in the process. Along with Blur and Suede, they were responsible for returning British guitar pop to the top of the charts. Led by guitarist/songwriter Noel Gallagher, the Manchester quintet adopted the rough, thuggish image of the Stones and the Who, crossed it with "Beatlesque" melodies and hooks, injected distinctly British lyrical themes and song structures like the Jam and the Kinks, and tied it all together with a massive guitar roar, as well as a defiant sneer that drew equally from the Sex Pistols' rebelliousness and the Stone Roses' cocksure arrogance. Gallagher's songs frequently reworked previous hits from T. Rex ("Cigarettes and Alcohol" borrows the riff from "Bang a Gong") to Wham! ("Fade Away" takes the melody from "Freedom"), yet the group always put the hooks in different settings, updating past hits for a new era.
Originally, the group was formed by schoolmates Liam Gallagher (vocals), Paul "Bonehead" Arthurs (guitar), Paul McGuigan (bass), and Tony McCaroll (drums). After spending several years as the guitar technician for a Stone Roses-inspired group named the Inspiral Carpets, Noel Gallagher returned to Manchester to find that his brother had formed a band. Noel agreed to join if he could have complete control of the group, including contributing all the songs; the rest of the band agreed and adopted a new name, Oasis, before launching a year of intensive rehearsals. ― Allmusic
Additional info:
• More Biographical, Career & Discography info

1. STUDIO:
1994. Definitely Maybe (1994, Epic, ESCA 6045, Japan)
1994. Definitely Maybe (2014, Sony Music, SICP 4110~2, Japan, 3CD, 20th Ann.)
1995. (What's The Story) Morning Glory (1995, Epic, ESCA 6290, Japan)
1995. (What's The Story) Morning Glory (2014, Sony Music, SICP 4152~4, Japan, 3CD)
1997. Be Here Now (1997, Epic, ESCA 6767, Japan)
2000. Standing On The Shoulder Of Giants (2000, Epic, ESCA 8118, Japan)
2002. Heathen Chemistry (2002, Epic, EICP 111, Japan)
2005. Don't Believe The Truth (2005, Epic, EICP 561, Japan)
2008. Dig Out Your Soul (2008, Sony Music, SICP 2000, Japan)

2. LIVE:
2000. Familiar To Millions (2000, Epic, ESCA 8260~1, Japan, 2CD)

3. COMPILATION:
1998. The Masterplan (1998, Epic, ESCA 7383, Japan)
2006. Stop The Clocks (2006, Epic, EICP 685~6, Japan, 2CD+DVD)
2010. Time Flies… 1994-2009 (2010, Sony Music, SICP 2760~3, Japan, 3CD+DVD)

4. BOX SET:
2006. Complete Single Collection 94-05 (2006, Epic, EICP 700~724, Japan, 25CD)
– Supersonic (EICP 700)
– Shakermaker (EICP 701)
– Live Forever (EICP 702)
– Cigarettes & Alcohol (EICP 703)
– Whatever (EICP 704)
– Some Might Say (EICP 705)
– Roll With It (EICP 706)
– Morning Glory (EICP 707)
– Wonderwall (EICP 708)
– Don't Look Back In Anger (EICP 709)
– Champagne Supernova (EICP 710)
– D'You Know What I Mean (EICP 711)
– Stand By Me (EICP 712)
– All Around The World (EICP 713)
– Don't Go Away (EICP 714)
– Go Let It Out! (EICP 715)
– Who Feels Love (EICP 716)
– Sunday Morning Call (EICP 717)
– The Hindu Times (EICP 718)
– Stop Crying Your Heart Out (EICP 719)
– Little By Little – She Is Love (EICP 720)
– Songbird (EICP 721)
– Lyla (EICP 722)
– The Importance Of Being Idle (EICP 723)
– Let There Be Love (EICP 724)

DOWNLOAD FROM

LMA_Oas_Discography Link List

Password: www.LosslessMA.net

If you encounter broken links or other problem about this publication, please let me know
and write your comment below. I will reply and fix as soon as possible.