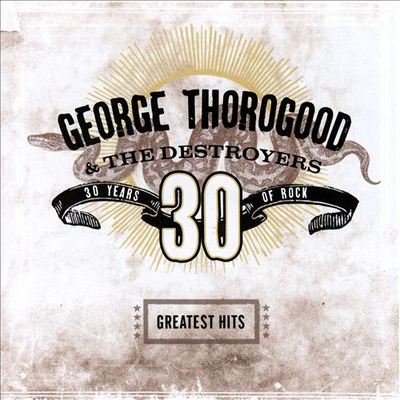 George Thorogood & The Destroyers – Greatest Hits: 30 Years Of Rock (2004)
EAC Rip | FLAC Image + Cue + Log | Full Scans @300 dpi, JPG
Total Size: 594 MB | 3% RAR Recovery
Label: Capitol Records | Cat#: 72435-98430-2-5 | Genre: Blues Rock
Released to celebrate the 30th anniversary of George Thorogood & the Destroyers — their first album may not have come out until 1977, but they cut their first sessions in 1974 — Capitol's Greatest Hits: 30 Years of Rock was designed to replace 1992's The Baddest of George Thorogood and the Destroyers as the band's definitive single-disc overview. Considering that the 1992 disc is out of print (as is the exhaustive and exhausting 1997 double-disc set Anthology), this does indeed stand as the best compilation currently in print, and even edges out Baddest by running a little bit longer and containing more of his late-'80s/early-'90s radio hits. Thing is, it doesn't contain all of his hits — "Treat Her Right," which was on the previous comp, is missing, as are several other charting songs: "Born to Be Bad," "Hello Little Girl," "I'm a Steady Rollin' Man," "Howlin' for My Baby," "Gone Dead Train," and "I Don't Trust Nobody." Chances are, most listeners won't notice that they are missing since not only are all of his big hits here — "Madison Blues," "One Bourbon, One Scotch, One Beer," "Move It on Over," "Who Do You Love," "Bad to the Bone," "I Drink Alone," "Gear Jammer," "Willie and the Hand Jive," "You Talk Too Much," "If You Don't Start Drinkin' (I'm Gonna Leave)," "Get a Haircut" — but because all of his songs pretty much sound exactly the same, all in the same key with the same riffs, same guitar licks, same lunkheaded vocals. For anybody who is not a fan, this makes listening to George Thorogood a maddening experience, but fans will find this to be a satisfying overview, even if it falls just short of being complete.
Reviewed by Allmusic
Additional Info:.
• Released Date: May 18, 2004
Tracklist:
01. Madison Blues – 04:28
02. One Bourbon, One Scotch, One Beer – 08:26
03. Move It On Over – 04:19
04. Who Do You Love? – 04:25
05. Bad To The Bone – 04:49
06. I Drink Alone – 04:32
07. Gear Jammer – 04:33
08. Willie And The Hand Jive – 04:03
09. The Sky Is Crying (Live) – 08:01
10. Reelin' & Rockin' (Live) – 05:48
11. You Talk Too Much – 04:34
12. If You Don't Start Drinkin' (I'm Gonna Leave) – 04:11
13. Get A Haircut – 04:07
14. Rockin' My Life Away (alternate take) – 03:28
15. American Made – 04:06
16. Who Do You Love? (Rothrock Remix 2004) – 03:34
DOWNLOAD FROM

LMA_GTaTD.GH.30YOR.2004.rar

Password: www.LosslessMA.net

If you encounter broken links or other problem about this publication, please let me know
and write your comment below. I will reply and fix as soon as possible.