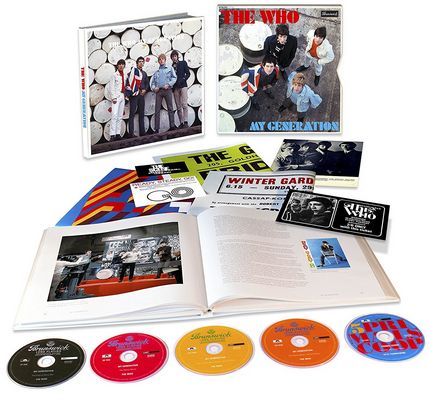 The Who – My Generation (1965) {2016, Super Deluxe Edition, 5CD Box Set}
EAC Rip | 5xCD | FLAC Image + Cue + Log | Full Scans Included
Total Size: 1.25 GB (CDs) + 1.07 GB (Scans) | 3% RAR Recovery
Label: Polydor / Brunswick / Universal | Netherlands | Cat#: 5372740 | Genre: Classic Rock
2016 mono remaster, new stereo mix, unheard songs, unreleased demos, alternate mixes & more. Including a stunning 80-page colour book with many unseen period photos & insightful new notes from Pete Townshend
Additional Info:
• Released Date: November 18, 2016
• More info
CD 1 – Original album (mono mixes)
01. Out In The Street – 02:32
02. I Don't Mind – 02:36
03. The Good's Gone – 04:04
04. La-La-La-Lies – 02:16
05. Much Too Much – 02:44
06. My Generation – 03:20
07. The Kids Are Alright – 03:07
08. Please Please Please – 02:46
09. It's Not True – 02:32
10. I'm A Man – 03:21
11. A Legal Matter – 02:50
12. The Ox – 03:55
• Originally released 1965
• Re-mastered 2016
CD 2 – Original album (new stereo mixes)
01. Out In The Street – 02:31
02. I Don't Mind – 02:36
03. The Good's Gone – 04:05
04. La-La-La-Lies – 02:15
05. Much Too Much – 02:43
06. My Generation – 03:18
07. The Kids Are Alright – 03:05
08. Please Please Please – 02:43
09. It's Not True – 02:30
10. I'm A Man – 03:20
11. A Legal Matter – 02:49
12. The Ox – 03:52
• Previously unreleased on CD or vinyl. Released on iTunes 2014.
• Remixed by the band in 2014 – For the missing overdubs Pete used exactly the same guitars and amps as the original album, Roger used same type of microphone.
• Overdubs recorded at Pete's home studio and Yellowfish Studio.
CD 3 – Mono mixes – bonus tracks
01. I Can't Explain – 02:06
02. Bald Headed Woman – 02:10
03. Daddy Rolling Stone – 02:48
04. Leaving Here – 02:49
05. Lubie (Come Back Home) – 03:37
06. Shout and Shimmy – 03:18
07. (Love Is Like A) Heatwave – 02:41
08. Motoring – 02:49
09. Anytime You Want Me – 02:36
10. Anyway, Anyhow, Anywhere – 02:41
11. Instant Party Mixture – 03:28
12. Circles – 03:13
13. Anyway, Anyhow, Anywhere (French EP Mix) – 02:44
14. Out In The Street (Alt Guitar Break) – 02:36
15. Out In The Street (Alt Early Vocal) – 02:35
16. I Don't Mind (Full Length) – 04:08
17. The Good's Gone (Full Length) – 04:35
18. My Generation (Alt Version) – 03:34
19. I'm A Man (V2 / Early Vocal) – 03:28
20. Daddy Rolling Stone (Alt Take) – 03:06
21. Lubie, Come Back Home (Alt Mix) – 03:45
22. Shout And Shimmy (Alt Mix) – 03:26
23. Circles (Alt Mix) – 03:31
• Tracks 1–12 originally released 1965-1966. Reissued 2002.
• Tracks 13-23 remixed in 2000, previously unreleased
• Re-mastered 2016
CD 4 – Stereo mixes – bonus tracks
01. Out In The Street (Alt / Take 1) – 02:31
02. I Don't Mind (Full Length Version) – 03:45
03. The Goods Gone (Full Length Version) – 04:27
04. My Generation (Instrumental Version) – 03:38
05. The Kids Are Alright (Alt / Take 1) – 03:07
06. I Can't Explain – 02:05
07. Bald Headed Woman – 02:34
08. Daddy Rolling Stone – 02:59
09. Daddy Rolling Stone (Alt Version) – 03:06
10. Leaving Here – 02:49
11. Lubie (Come Back Home) – 03:42
12. Shout And Shimmy – 03:19
13. (Love Is Like A) Heatwave – 02:39
14. Motoring – 02:47
15. Anytime You Want Me – 02:37
16. Instant Party Mixture – 03:29
17. Anyway, Anyhow, Anywhere – 02:43
18. Circles (New Mix) – 03:15
19. Daddy Rolling Stone (Alt Take B / New Mix) – 03:08
20. Out In The Street (Alt / Take 2) – 02:34
21. I'm A Man (Alt / New Mix) – 03:27
• Tracks 1-17 previously unreleased on CD or vinyl. Released on iTunes 2014.
• Tracks 18-21 previously unreleased.
• Re-mastered 2016
CD 5 – The Demos
01. My Generation (V 3) – 03:05
02. My Generation (V 2 / Fragment) – 01:02
03. The Girls I Could've Had – 02:57
04. It's Not True – 02:47
05. As Children We Grew – 01:43
06. Legal Matter – 03:00
07. Sunrise (V 1) – 02:31
08. Much Too Much – 03:20
09. My Own Love – 03:25
10. La-La-La-Lies – 01:59
11. The Good's Gone – 03:39
• Track 1 previously released as 45 rpm flexi-disc with Richard Barnes' Maximum R&B book (re-mastered 2016)
• Tracks 2, 4, 6, 7, 8, & 11 previously unreleased demo versions
• Tracks 3, 5, & 9 previously unreleased songs – 'The Girls I Could've Had', 'As Children We Grew', 'My Own Love'
• Track 10 previously released on SCOOP (re-mastered 2016)