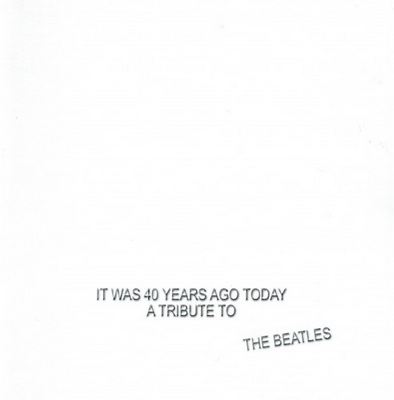 VA – It Was 40 Years Ago Today: Tribute To The Beatles (2004)
EAC Rip | 3xCD | FLAC Tracks + Cue + Log | Full Scans @400 dpi, JPG
Total Size: 1.51 GB (CDs) + 54.3 MB (Scans) | 3% RAR Recovery
Label: Bullseye Records | Cat#: BLR-CD-4060 | Lenght: 03:41:11 | Genre: Classic Rock
An impressive and delightfully exhausting 50 tracks capture the spirit of the Beatles' music on this double-CD compilation that imitates The White Album in look, just as the immaculate Boston Does the Beatles double LP from 1988 did. There are so many highlights in the over 150 minutes of music (almost an hour more than the approximately 97-minute aforementioned Boston Does the Beatles) that it is hard to be fair to all involved by leaving out names, when so much of this is so very good. Jeremy Morris submits an authentic "It's All Too Much," while Al Kooper dramatically revises "Eleanor Rigby" to wonderful effect. (In fact, Kooper sounds like he's produced by John Cale and J.J. Cale with backing by the fellow whose name is always confused with Blood, Sweat & Tears' founder.) The booklet gives anecdotes on the material and/or describes how each individual Beatles songwriter got the inspiration — along with the release date and album where the material was originally launched. It might have been more fun to get some insight on those who contributed, and that information — strangely — is found on the label's website rather than inside the packaging. (Go to www.bullseyecanada.com/artists/TributeBeatles.htm on the www.bullseyecanada.com site to get the more extensive liners, which is important because on disc one a group called the First Time also covers "Eleanor Rigby," making for some confusion.) Andrew Gold of "Thank You for Being a Friend" fame shows up twice, once on "Lady Madonna" on disc one and again on the version of "Got to Get You into My Life" with Michael White on disc two. Jim Basnight's "Happiness Is a Warm Gun" is interesting, and one would be remiss not to acknowledge the merits of Dee Long of the band Klaatu on George Harrison's "Blue Jay Way," power poppers the Lackloves performing "Hey! Bulldog," a soft rocked-out "I Will" by Walter Clevenger & the Dairy Kings, and ex-Teenage Head Dave Rave on "Here Comes the Sun." "Eight Days a Week" comes by way of an Ontario band called the Deal, not to be confused with a group from Massachusetts that went by the same name (both have broken up), and on it goes. Tribute albums are one of the better ways to hear great musicians in the new millennium, and talent coordinator Gary Pig Gold along with producers Jaimie Vernon, Jim Hoeck, and co-producer Terry Draper (of Klaatu) and the others involved all get thumbs up for doing a superb job. Even the overrated Bob Segarini brings it home on a superior rendition of "And Your Bird Can Sing," credited to Godovitz & Segarini. It is one of three entries by Segarini, one on each disc. You read correctly — they actually have a third bonus CD available from the website. One of the better tribute projects you'll find, up there with Russ Regan's All This and World War II double-LP Beatles tribute/film soundtrack.
Review by: Allmusic
Additional Info:
• Released Date: July 20, 2004
Disc 1:
01. Trimatics – Sie Liebt Dich (intro) – 00:12
02. Lolas – Good Morning, Good Morning – 03:17
03. The Dons – Savoy Truffle – 04:03
04. Alison Solo – Paperback Writer – 02:27
05. Helium Kids – Fixing A Hole – 03:01
06. Cadence – Drive My Car – 03:35
07. Stacey Wheal – Here, There And Everywhere – 02:55
08. Andrew Gold – Lady Madonna – 02:18
09. The First Time – Eleanor Rigby – 03:51
10. Tom Hooper – Long Long Long – 04:04
11. Frank Soda – I Feel Fine – 02:22
12. Eytan Mirsky – Don't Bother Me – 02:54
13. Sun PK – I'm Happy Just To Dance With You – 02:30
14. The Kings – For No One – 02:13
15. Godo – You Can't Do That – 03:13
16. Jeff Jones – I've Just Seen A Face – 02:10
17. Cats & Dogs – Norwegian Wood – 04:09
18. Dr. Lotech with Mrs. Hippie – Taxman – 03:50
19. Dee Long – Blue Jay Way – 04:38
20. Rockbeach – Fool On The Hill – 02:40
21. Eight Seconds – Hey Jude – 06:00
22. The Lackloves – Hey Bulldog – 03:14
23. Popdudes – Helter Skelter – 02:58
24. The Deal – Eight Days A Week – 02:53
25. The Dexters – I Want You (She's So Heavy) – 01:00
Disc 2
01. Dave Rave with The Wretches – Here Comes The Sun – 03:08
02. Donkey – Because – 01:04
03. The Receiver – Mean Mr. Mustard – 01:32
04. Steve Barton – She's Leaving Home – 02:49
05. Al Kooper – Eleanor Rigby – 05:17
06. Brentwood Rocker – It Won't Be Long – 02:45
07. Phil Vincent – Oh! Darling – 03:02
08. Godovitz & Segarini – And Your Bird Can Sing – 02:11
09. Phil Angotti – I'm Only Sleeping – 03:13
10. Neilson Hubbard – Julia – 03:01
11. Jim Basnight – Happiness Is A Warm Gun – 02:42
12. Jeremy Morris – It's All Too Much – 06:09
13. Spongetones – Being For The Benefit Of Mr. Kite! – 02:37
14. The Oohs – You're Gonna Lose That Girl – 02:29
15. Michael Carpenter – If I Needed Someone – 03:35
16. Geoff Gibbons – I Need You – 03:29
17. Barry Holdship – Cry Baby Cry – 02:48
18. MILK – Everybody's Got Something To Hide – 02:35
19. Michael White & Andrew Gold – Got To Get You Into My Life – 02:25
20. Walter Clevenger & The Dairy Kings – I Will – 02:15
21. Paul Myers – I Want To Tell You – 03:25
22. The Pozers – She Said, She Said – 02:27
23. Bill Lloyd – Across The Universe – 04:17
24. Brian Gagnon – Golden Slumbers / Carry That Weight / The End – 05:21
25. Trimatics – Sie Liebt Dich – 02:54
Disc 3
01. Jeremy Morris – Goodnight – 02:24
02. Carpet Frogs – Dear Prudence – 03:49
03. Eric Baragar & Tim Campbell – Two Of Us – 03:23
04. Dipsomaniacs – Please Please Me – 02:08
05. Maureen Leeson – Oh! Darling – 03:35
06. Mannix – I'm Down (Live) – 02:14
07. Ed James – Revolution – 02:36
08. Dee Long – Across The Universe – 04:07
09. The Ringles – The Inner Light – 02:31
10. Chris Richards – Savoy Truffle – 01:59
11. Urban Sprawl – Why Don't We Do It In The Road – 02:05
12. Strangecloud – Things We Said Today – 03:07
13. The Beaverleys – Little Child – 01:49
14. The Andersons! – Norwegian Wood – 04:51
15. Glowfriends – Fool On The Hill – 03:23
16. The Brambles – I'll Get You – 02:21
17. Jaimie Vernon – I Saw Her Standing There – 02:34
18. The Roswells – Nowhere Man – 04:53
19. Stratocruiser – I Call Your Name – 03:31
20. Hoffman, Nilsson & Wicks – We Can Work It Out – 02:32
21. The Wackers – She Loves You (Live) – 02:33
22. Terry Draper – 'Til There Was You – 02:47
23. Bednjanec – You're Gonna Lose That Girl – 02:17