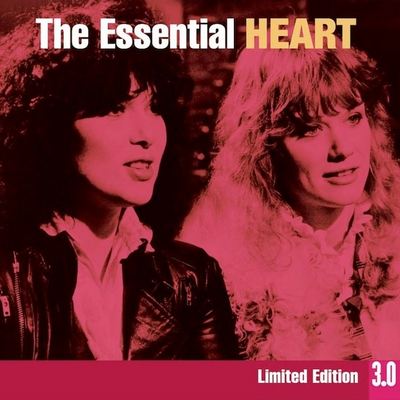 Heart – The Essential Heart (Limited Edition 3.0) (2008)
EAC Rip | 3xCD | FLAC Tracks + Cue + Log | Full Scans @600 dpi, JPG, Included
Total Size: 1.43 GB | 3% RAR Recovery
Label: Sony Music BMG | Cat#: 88697 29091 2 | Genre: Hard Rock
Essential Heart is the only compilation that covers the group's tenure at both Epic and Capitol. All the hits of the '70s are featured on the first disc and include "Crazy on You," "Magic Man," "Barracuda" and "Straight On." The second disc includes all of their comeback material recorded in the '80s such as "What About Love?," "These Dreams," and "Nothin' at All." [Epic/Capitol/Legacy's Limited Edition 3.0 appeared in 2008 and included a bonus CD — in addition to the original, two-CD set.].
Reviewed by Allmusic
Additional Info:
• Released Date: August 26, 2008
• More Biographical, Career & Discography info
Disc 1:
01. Crazy On You – 04:55
02. Magic Man – 05:31
03. Dreamboat Annie (Reprise) – 03:50
04. Barracuda – 04:23
05. Little Queen – 05:13
06. Kick It Out – 02:46
07. Love Alive – 04:25
08. Heartless – 05:01
09. Straight On – 05:07
10. Dog & Butterfly – 05:21
11. Silver Wheels – 01:25
12. Even It Up – 05:12
13. Rock And Roll (Live) – 05:58
14. Tell It Like It Is – 03:55
15. Unchained Melody (Live) – 04:33
16. This Man Is Mine – 03:07
17. How Can I Refuse – 03:54
18. Allies – 04:42
Disc 2
01. What About Love? – 03:42
02. Never – 04:05
03. These Dreams – 04:14
04. Nothin' At All – 04:13
05. If Looks Could Kill – 03:44
06. Alone – 03:41
07. Who Will You Run To – 04:06
08. There's The Girl – 03:50
09. I Want You So Bad – 04:20
10. All I Wanna Do Is Make Love To You – 05:08
11. Wild Child – 04:30
12. I Didn't Want To Need You – 04:07
13. Stranded – 03:56
14. Secret – 04:14
15. You're The Voice (Live) – 05:07
16. Will You Be There (In The Morning) – 04:29
17. Black On Black II – 03:53
18. Ring Them Bells – 03:51
19. The Road Home (Edit) – 03:35
Disc 3
01. Sylvan Song – 02:15
02. Dream Of The Archer – 04:33
03. Bebe Le Strange – 03:41
04. Mistral Wind (Live) – 07:14
05. Hit Single – 02:36
06. Strange Euphoria – 02:47
07. City's Burning – 04:27
08. Strong, Strong Wind – 04:26