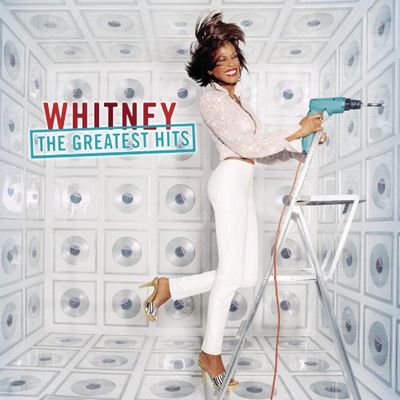 Whitney Houston – The Greatest Hits (2000)
EAC Rip | 2xCD | FLAC Image + Cue + Log | Full Scans @600 dpi, JPG
Total Size: 1.04 GB (CDs) + 581 MB (Scans) | 3% RAR Recovery
Label: Arista, BMG Japan | Cat#: BVCA-27003-4 | Genre: R&B
Whitney: The Greatest Hits is a compilation album by American singer Whitney Houston, released in May 2000. The set consists of disc one with ballads and disc two with uptempo numbers and remixes. Houston's performance of "The Star-Spangled Banner" at Super Bowl XXV, and 1988 Olympics tribute "One Moment in Time" are also included in the set. The collection includes four new songs—"Could I Have This Kiss Forever", duet with Enrique Iglesias, "If I Told You That", duet with George Michael, "Same Script, Different Cast", duet with Deborah Cox and "Fine"—all of which were released as singles. It also includes three other songs that had never appeared on a Houston album: "One Moment in Time", "The Star Spangled Banner", and "If You Say My Eyes Are Beautiful", a duet with Jermaine Jackson from his 1986 Precious Moments album. Along with the album, an accompanying VHS and DVD was released featuring the music videos to Houston's greatest hits, as well as several hard-to-find live performances including her 1983 debut on The Merv Griffin Show, and interviews.
Additional Info:
• Recorded Date: 1984 – March 2000
• Released Date: May 16, 2000
• Producer: Clive Davis Whitney Houston
• More info
Disc 1 – Cool Down
01. Saving All My Love For You – 03:58
02. Greatest Love Of All – 04:52
03. One Moment In Time – 04:46
04. I Have Nothing – 04:52
05. I Will Always Love You – 04:27
06. Run To You – 04:27
07. You Give Good Love – 04:11
08. All At Once – 04:30
09. Where Do Broken Hearts Go – 04:37
10. If You Say My Eyes Are Beautiful (duet with Jermaine Jackson) – 04:20
11. Didn't We Almost Have It All – 04:37
12. All The Man That I Need – 03:56
13. Exhale (Shoop Shoop) – 03:25
14. Count On Me (duet with CeCe Winans) – 04:27
15. I Believe In You And Me – 03:55
16. I Learned From The Best – 04:23
17. Same Script, Different Cast (duet with Deborah Cox) – 05:00
18. Could I Have This Kiss Forever (duet with Enrique Iglesias) (Metro Mix) – 03:56
Disc 2 – Throw Down
01. If I Told You That (Whitney Houston + George Michael) – 04:33
02. Fine – 03:34
03. My Love Is Your Love – 04:18
04. It's Not Right But It's Okay – 04:49
05. Heartbreak Hotel – 04:35
06. Step By Step – 04:11
07. Queen Of The Night (CJ Mackintosh Mix) – 03:46
08. I'm Every Woman – 04:45
09. Love Will Save The Day – 05:21
10. I'm Your Baby Tonight – 04:59
11. So Emotional – 04:32
12. I Wanna Dance With Somebody (Who Loves Me) – 04:49
13. How Will I Know – 04:33
14. I Will Always Love You (Hex Hector Mix) – 04:52
15. Greatest Love Of All (Club 69 Mix) – 04:43
16. It's Not Right But It's Okay (Thunderpuss Mix) – 04:16
17. I'm Your Baby Tonight (Dronez Mix) – 05:04
EAC CD1 / EAC CD2
CUETools CD1 / CUETools CD2