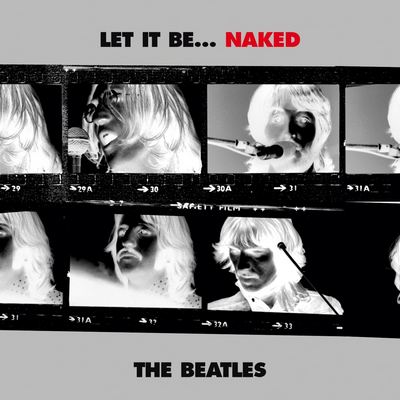 The Beatles – Let It Be… Naked (2003)
EAC Rip | 2xCD | FLAC Image + Cue + Log | Full Scans @600 dpi, JPG, Included
Size: 351 MB | 3% RAR Recovery
Label: EMI / Apple | Cat#: 07243 595713 2 4 | Genre: Classic Rock
The only Beatles album to occasion negative, even hostile reviews, there are few other rock records as controversial as Let It Be. First off, several facts need to be explained: although released in May 1970, this was not their final album, but largely recorded in early 1969, way before Abbey Road. Phil Spector was enlisted in early 1970 to do some post-production work, but did not work with the band as a unit, as George Martin and Glyn Johns had on the sessions themselves; Spector's work was limited to mixing and some overdubs. And, although his use of strings has generated much criticism, by and large he left the original performances to stand as is: only "The Long and Winding Road" and (to a lesser degree) "Across the Universe" and "I Me Mine" get the wall-of-sound layers of strings and female choruses. Although most of the album, then, has a live-in-the-studio feel, the main problem was that the material wasn't uniformly strong, and that the Beatles themselves were in fairly lousy moods due to inter-group tension. All that said, the album is on the whole underrated, even discounting the fact that a sub-standard Beatles record is better than almost any other group's best work. McCartney in particular offers several gems: the gospelish "Let It Be," which has some of his best lyrics; "Get Back," one of his hardest rockers; and the melodic "The Long and Winding Road," ruined by Spector's heavy-handed overdubs (the superior string-less, choir-less version was finally released on Anthology Vol. 3). The folky "Two of Us," with John and Paul harmonizing together, was also a highlight. Most of the rest of the material, by contrast, was going through the motions to some degree, although there are some good moments of straight hard rock in "I've Got a Feeling" and "Dig a Pony." As flawed and bumpy as it is, it's an album well worth having, as when the Beatles were in top form here, they were as good as ever.
Reviewed by Allmusic
Personnel / Credits:
• John Lennon – vocals, guitars, bass guitar, lap steel guitar
• Paul McCartney – vocals, bass guitar, acoustic guitars, piano, organ, electric piano
• George Harrison – guitars, vocals, sitar, tambura
• Ringo Starr – drums
Additional musicians:
• George Martin – organ, percussion
• Billy Preston – organ, electric piano
Additional Info:
• Recorded Date: 4 February 1968, 2–31 January 1969 and 3–4 January 1970 at EMI and Apple studios, and Twickenham Film Studios, London
• Released Date: November 17, 2003
• Producer: Paul Hicks, Guy Massey and Allan Rouse
• More info: Here
Disc 1:
01. Get Back – 02:34
02. Dig A Pony – 03:38
03. For You Blue – 02:27
04. The Long And Winding Road – 03:34
05. Two Of Us – 03:21
06. I've Got A Feeling – 03:30
07. One After 909 – 02:44
08. Don't Let Me Down – 03:18
09. I Me Mine – 02:21
10. Across The Universe – 03:38
11. Let It Be – 03:53
Disc 2 – Fly on the Wall bonus disc
The 22-minute bonus disc contains song excerpts and dialogue from the many hours of tape which accumulated during the Let It Be sessions. Some of the removed dialogue that had appeared on the original album appears on this disc. In total, the track is 21 minutes and 55 seconds long and brings the album's total length to 56:59.
Compiled and edited by Kevin Howlett. All songs credited to Lennon–McCartney except where noted:
* Sun King – 0:12–0:31
* Don't Let Me Down – 0:32–1:05
* One After 909– 1:30–1:38
* Because I Know You Love Me So – 2:42–4:15
* Don't Pass Me By (Richard Starkey) – 5:03–5:06
* Taking a Trip to Carolina (Starkey) – 5:32–5:52
* John's Piano Piece (Lennon) – 5:53–6:13
* Child of Nature (Lennon) – 6:29–6:53
* Back in the U.S.S.R. – 6:54–7:06
* Every Little Thing – 7:20–7:30
* Don't Let Me Down – 7:31-7:51/8:00–8:31
* All Things Must Pass (Harrison) – 9:00–9:38
* John's Jam – 10:07–10:26
* She Came In Through the Bathroom Window – 10:58–11:03
* Paul's Bass Jam – 11:16–11:30
* Paul's Piano Piece (McCartney) – 12:59–13:59
* Get Back – 16:01–16:15
* Two of Us – 17:03–17:24
* Maggie Mae (Traditional, arranged by Lennon–McCartney–Harrison–Starkey) – 17:25–17:47
* Fancy My Chances with You – 17:48–18:15
* Can You Dig It? (Lennon–McCartney–Harrison–Starkey) – 18:39–19:10
* Get Back – 19:35–20:08
DOWNLOAD FROM

LMA__TB.LIBN2003.rar

Password: www.LosslessMA.net

If you encounter broken links or other problem about this publication, please let me know
and write your comment below. I will reply and fix as soon as possible.