Sir RAMON March 13, 2015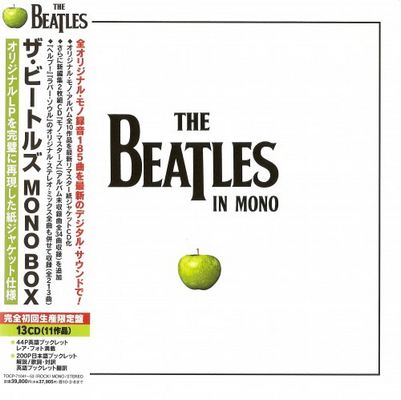 The Beatles – The Beatles In Mono (2009) {Remastered, Box Set, Japanese Edition}
EAC Rip | 13xCD | FLAC Image + Cue + Log | MP3 CBR @ 320 kbps | Full Scans + Booklet @600 dpi, JPG
FLAC: 2.81 GB | MP3: 1.82 GB | Full Scans (Covers & CD Labels): In same archive | Booklet & Box Covers: 223 MB
3% RAR Recovery
Label: EMI Japan / Apple| Cat#: TOCP-71041-53 | Lenght: 09:39:38 | Genre: Classic Rock
The Beatles always stood apart from their peers, a self-evident statement that sadly extended to the treatment of their catalog in the digital age. Where all their peers, from the Byrds to the Who, have had their catalogs remastered and reissued in deluxe editions, sometimes several times, the Beatles remained stuck in the early days of digital, their 14 albums plus Past Masters singles collection remaining untouched since 1987. Anniversaries came and went, but no remasters arrived until the release of the video game The Beatles Rockband pushed a long-overdue revamping of the band's entire catalog into the stores on 9-9-09. This reissue campaign corrects almost all the problems of the original 1987 CDs: the sound and artwork are improved, and all the original mono and stereo mixes finally see the light of day, albeit in two separate box sets. None of the albums have been remixed — although Help! and Rubber Soul retain Martin's 1987 mixes, the original stereo mixes are bonuses on the mono set — so this doesn't shock the way the Yellow Submarine soundtrack did with its reimagined stereo mixes. Nevertheless, these remasters surely do surprise with their clarity and depth, with each album feeling bigger and fuller than the previous CD incarnation, but not artificially so; the veil has been lifted, so everything seems full and fresh. Appropriately, there's more to savor from Help! onward, as the Beatles' productions grew ambitious, but Please Please Me, With the Beatles, and A Hard Day's Night all have a strong punch, while Beatles for Sale is warmer than the previous disc.
The stereo set may be the official canon, but what Beatlemaniacs have really craved is the mono box. This limited-edition box is laden with new-to-CD mixes, including the genuine rarities of the previously unreleased mono mixes of the four new songs from Yellow Submarine, and its packaging is gorgeous, filled with mini-LP replicas with stiff cardboard sleeves of every album from Please Please Me to The Beatles, complete with replicated gatefolds and packaging inserts, all protected in resealable plastic sleeves. As pure physical product, this satisfies any collector's itch, but this also is arguably the better-sounding of the two sets, providing ample evidence that The Beatles did spend more time on mono mixes during much of their career. For generations of listeners raised on stereo mixes, there are plenty of surprises here, from the faster versions of "She's Leaving Home" and "Don't Pass Me By," to the numerous little differences that pop up on Sgt. Pepper's, The White Album, and Revolver, all adding up to dramatically different experiences. Sometimes, the density of mono just has more force — "Lady Madonna" rolls like a freight train, "I'm Down" hits in the gut — and sometimes the colors just seem more vibrant; in either case, there are enough emotional differences to make this worthwhile for the dedicated, and depending on taste, it may even be preferable. But there's no question of one thing: of the two sets, as a package, the mono box is a thing to behold.
Review by: Allmusic
Notes:
The Beatles In Mono – The Complete Mono Recordings
185 Songs – Remastered for superior sound
Replica Miniature LP packaging
This set contains: all 10 original mono albums digitally remastered
Help! also includes original 1965 stereo mix.
Rubber Soul also includes original 1965 stereo mix.
All albums are packaged in miniature vinyl sleeves that faithfully recreate the original LP releases down to the finest detail including inner sleeves, inserts and are presented with the original LP labels on the CDs. Six albums from Help! to The Beatles are released on CD in mono for the first time.
Also includes: A double-CD collection of all The Beatles non-album and EP tracks digitally remastered in mono including four mixes unique to this package.
A 44 page booklet which includes an essay on the important role that these mono mixes played in The Beatles recording career plus a track by track rundown of the recordings contained in the Mono Masters 2-CD set.
Additional Info:
• Recorded Date: 11 September 1962–4 January 1970 at EMI, Trident, Olympic, Apple, Chappell, De Lane Lea and Regent Sound studios, London; Pathé Marconi Studio, Paris; EMI Studios, Bombay
• Original Released Date: 1963 – 1970
• Released Date: September 9, 2009
• Producer: George Martin, Simon Gibson, Paul Hicks, Sean Magee, Guy Massey, Sam Okell, Steve Rooke, Allan Rouse (remaster engineers)
• More Information: Here
Disc Listing:
Download From
LMA_TB.MBS.2009.2

Password: www.LosslessMA.net

If you encounter broken links or other problem about this publication, please let me know
and write your comment below. I will reply and fix as soon as possible.