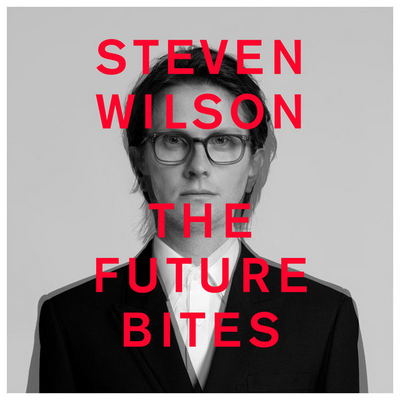 Steven Wilson – The Future Bites (2021) [WEB, CD-Quality + Hi-Res]
WEB Download | CD-Quality / FLAC Tracks / 16bit / 44.1kHz | Hi-Res / FLAC Tracks / 24bit / 96kHz
Total Size: 246 MB (CD-Quality) + 858 MB (Hi-Res) | 3% RAR Recovery
Label: Caroline International (P&D) | Genre: Indie Rock
Steven Wilson fans have been primed for The Future Bites since he released To the Bone in 2017. That record, and the subsequent 4½ EP, were deliberately "pop" responses to his three-album dalliance with prog — Raven That Refused to Sing, Hand. Cannot. Erase, and Grace for Drowning. In contrast to the above, The Future Bites is a slick exercise in Wilson's oft-articulated love of synth pop and electronic music. It's a loose concept set about the treachery that rampant consumerism foists upon the world, and the danger a technological society imposes on personal identity.
Given the musical m.o. here, it should come as no surprise that the production on these nine songs is slick, even icy. It contrasts sharply with most of Wilson's songwriting that remains saturated in welcoming, effusive melodies and hooks. On most tracks, guitars and drums are subservient to keyboards and electronic rhythms and soundscapes. As usual, the studio cast is stellar. It includes keyboardists Adam Holzman and Richard Barbieri, bassist Nick Beggs, drummer Michael Spearman, sonic architect and beat maestro Faultline (David Kosten), and backing vocalists Wendy Harriott, Bobbie Gordon, and Crystal Williams. ― Allmusic
Tracklist
01. Unself – 01:05
02. Self – 02:56
03. King Ghost – 04:06
04. 12 Things I Forgot – 04:43
05. Eminent Sleaze – 03:53
06. Man Of The People – 04:42
07. Personal Shopper – 09:49
08. Follower – 04:39
09. Count Of Unease – 06:08
———————-
LOG
DYNAMIC RANGE
INFO
SOURCE
DOWNLOAD FROM
CD-Quality
LMA_StWi.2021.TFB_WEB_16-44.rar
Hi-Res
LMA_StWi.2021.TFB_WEB_24-96.rar
———————-
If you encounter broken links or other problem about this publication, please let me know and write your comment below. I will reply and fix as soon as possible.