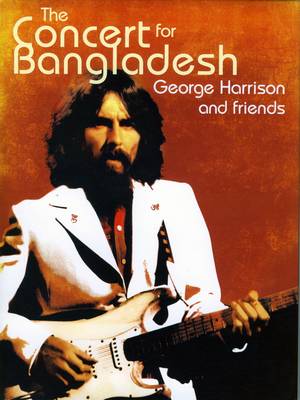 George Harrison – The Concert For Bangladesh (1972) [2005, 2DVD-Set]
2xDVD-9 | NTSC 4:3 (720×480) VBR | Dolby AC3 5.1 & 2.0 / DTS 5.1 | Full Scans Included
Subtitle: English, Español, Português, Français
Total Size: 11.3 GB (DVDs) + 120 MB (Scans) | 3% RAR Recovery
Label: Apple, Rhino | USA | Cat#: R2 970480 | Genre: Pop Rock, Folk Rock
The Concert for Bangladesh is a film directed by Saul Swimmer and released in 1972. The film documents the two benefit concerts that were organised by George Harrison and Ravi Shankar to raise funds for refugees of the Bangladesh Liberation War, and were held on Sunday, 1 August 1971 at Madison Square Garden in New York City.As well as notable performances from Harrison and Shankar, the film includes "main performer" contributions from Harrison's fellow ex-Beatle Ringo Starr, Billy Preston and Leon Russell, and a surprise walk-on from Bob Dylan. Other contributing musicians include Ali Akbar Khan, Eric Clapton, the band Badfinger, Klaus Voormann, Jesse Ed Davis, Jim Horn and Jim Keltner.
DVD 1 – The Concert For Bangladesh 1971:
01. Bangla Dhun (Performed by Ravi Shankar)
02. Wah-Wah (Performed by George Harrison)
03. My Sweet Lord (Performed by George Harrison)
04. Awaiting on You All (Performed by George Harrison)
05. That's the Way God Planned It (Performed by Billy Preston)
06. It Don't Come Easy (Performed by Ringo Starr)
07. Beware of Darkness (Featuring Leon Russell on guest vocals)
08. While My Guitar Gently Weeps (Featuring Eric Clapton on lead guitar)
09. Medley: Jumpin' Jack Flash / Youngblood (Performed by Leon Russell, with additional vocals by George Harrison and Don Preston on Youngblood )
10. Here Comes the Sun (Featuring Pete Ham)
11. A Hard Rain's A-Gonna Fall (Performed by Bob Dylan)
12. It Takes A Lot To Laugh, It Takes A Train To Cry (Performed by Bob Dylan)
13. Blowin' in the Wind (Performed by Bob Dylan)
14. Just Like A Woman (Performed by Bob Dylan)
15. Something (Performed by George Harrison)
16. Bangla Desh (Performed by George Harrison)
DVD 2 – The Concert For Bangladesh 2005 – Special Features:
01. Documentary
02. The Concert For Bangladesh Revisited With George Harrison And Friends (45 mins.)
03. Background story of the show including interviews with cast and crew.
04. Previously Unseen Performances From The Rehearsals, Soundcheck And Afternoon Show:
– If Not For You
– Come On In My Kitchen
– Love Minus Zero/No Limit
05. Mini Features
06. The Making of the Film
07. The Making of the Album
08. The Original Artwork
09. Recollections – August 1st 1971
10. Photo Gallery
11. Take A Bow
12. Credits
———————-
LOG
DVDINFO
IMAGE GALLERY & INFO
DVD SCREENSHOTS | DISCOGS
DOWNLOAD FROM
LMA_GeHa.2005.TCFB
———————-
If you encounter broken links or other problem about this publication, please let me know and write your comment below. I will reply and fix as soon as possible.