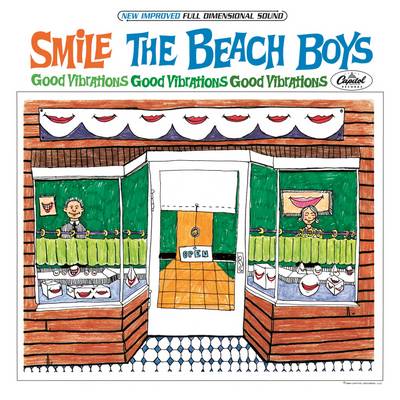 The Beach Boys – The Smile Sessions (2011)
EAC Rip | 2xCD | FLAC Tracks + Cue + Log | Full Scans Included
Total Size: 720 MB (CDs) + 347 MB (Scans) | 3% RAR Recovery
Label: Capitol | EU | Cat#: 5099902766324 | Genre: Pop Rock
The Smile Sessions is a compilation album and box set released by American rock band the Beach Boys on October 31, 2011 that focuses on abandoned recording sessions which – if completed – would have followed the Beach Boys' eleventh studio album Pet Sounds. It features comprehensive session highlights and outtakes, while the first 19 tracks comprise an approximation of what the completed Smile album might have sounded like based on a template established in 2004 for the rerecorded Brian Wilson Presents Smile.
The compilation is the first and only package devoted to the 1960s Smile recordings originally produced by Brian Wilson, arriving after decades of public anticipation and numerous false starts. The project was led primarily by audio engineers Alan Boyd, Mark Linett, and Capitol A&R director Dennis Wolfe, with Wilson acting as a remote supervisor, assisting the engineers with some mixing decisions. Wilson later stated that while the compilation is "not a far cry" from his original vision, he prefers his 2004 solo version. It is preceded by the similar box set The Pet Sounds Sessions (1997).
Additional Info:
• Released Date: November 1, 2011
• More info 1 | More info 2
CD 1
01. Our Prayer – 01:05
02. Gee – 00:51
03. Heroes And Villains – 04:52
04. Do You Like Worms (Roll Plymouth Rock) – 03:35
05. I'm In Great Shape – 00:28
06. Barnyard – 00:48
07. My Only Sunshine (The Old Master Painter-You Are My Sunshine) – 01:55
08. Cabin Essence – 03:30
09. Wonderful – 02:04
10. Look (Song For Children) – 02:31
11. Child Is Father Of The Man – 02:10
12. Surf's Up – 04:12
13. I Wanna Be Around/Workshop – 01:23
14. Vega-Tables – 03:49
15. Holidays – 02:32
16. Wind Chimes – 03:06
17. The Elements: Fire (Mrs. O'Leary's Cow) – 02:35
18. Love To Say Dada – 02:32
19. Good Vibrations – 04:15
Bonus Tracks CD 1
20. You're Welcome – 01:08
21. Heroes And Villains [Stereo Mix] – 04:53
22. Heroes And Villains Sections [Stereo Mix] – 07:16
23. Vega-Tables [Demo] – 01:49
24. He Gives Speeches – 01:13
25. Smile Backing Vocals Montage – 08:29
26. Surf's Up 1967 [Solo Version] – 03:48
27. Psycodelic Sounds: Brian Falls Into A Piano – 01:30
28. Smile Retail Promo Advert – 01:02
CD 2
01. Our Prayer – 03:02
02. Heroes And Villians (Part 1) – 03:09
03. Heroes And Villians (Part 2) – 04:19
04. Heroes And Villians-Children Were Raised – 02:07
05. Heroes And Villians-Prelude To Fade – 03:43
06. My Only Sunshine – 06:50
07. Cabin Essence – 05:17
08. Surf's Up-1st Movement – 04:56
09. Surf's Up-Piano Demo – 03:55
10. Vega-Tables-Fade – 05:25
11. The Elements-Fire Session – 08:21
12. Cool, Cool Water (Version 2) – 03:36
13. Good Vibrations (Session Hightlights) – 08:19
14. Psycodelic Sounds-Brian Falls Into A Microphone – 01:08
[su_accordion]
[su_spoiler title="EAC Logs" icon="plus-square-1″ style="fancy"]
[su_spoiler title="EAC Log CD 1″ icon="plus-square-1″ style="fancy"]
Click Here[_/su_spoiler]
[su_spoiler title="EAC Log CD 2″ icon="plus-square-1″ style="fancy"]
Click Here[_/su_spoiler]
[/su_spoiler]
[su_spoiler title="Back & Labels" icon="plus-square-1″ style="fancy"]
[/su_spoiler]
[/su_accordion]