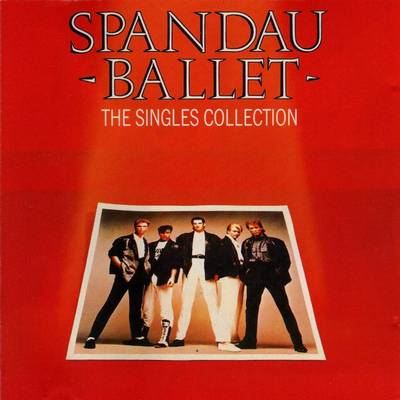 Spandau Ballet – The Singles Collection (1985)
EAC Rip | FLAC Image + Cue + Log | Full Scans Included
Total Size: 410 MB | 3% RAR Recovery
Label: Chrysalis | UK | Cat#: CCD 1498 | Genre: Synth-Pop, New Wave
An excellent round-up of the 15 hit singles that, between late 1980 and fall 1984, saw Spandau Ballet transcend every prediction ever levelled at their music, and establish themselves among the most versatile British bands of their era. From the utterly convincing white boy Funk of the early "To Cut A Long Story Short", "The Freeze", "Musclebound" and "Chant No 1", through the bodyswerve to ballad-ville that ushered in the age of "True" and "Gold", and onto the near-anthemic guitar pop of "Only When You Leave" and "Highly Strung", The Singles Collection suffers only from its failure to tell the tale in strict chronological fashion. Tracing the band's development, after all, is almost as satisfying as having their first few pounding moments all lumped together at the beginning – for was there any more satisfying sound than that?
The problem with that approach, of course, is that many listeners might not even want to progress beyond them – arguably, late '81's "Paint Me Down" represented the peak of Spandau's ambition, with the following year's "Lifeline" sounding almost retrogressive when lined up alongside the band's other 1982 releases. On the other hand, there was an entire new audience for whom Tony Hadley crooning "Only When You Leave" and "She Loved Like Diamond" represented an entire new beginning for a band that had hitherto been too badly scarred by the New Romantic brush – in which case, a very good case exists for this album (and every other Spandau Ballet collection) to be abruptly sliced in half, and reissued across two volumes, the Funky Years and the wimpy ones. But who would ever do that? ― Allmusic
Additional Info:
• Released Date: November 4, 1985
• More info
Tracklist:
01. Gold – 03:58
02. Lifeline – 03:24
03. Round & Round – 04:34
04. Only When You Leave – 04:49
05. Instinction – 03:35
06. Highly Strung – 04:12
07. True – 05:38
08. Communication – 03:25
09. I'll Fly For You – 05:12
10. To Cut A Long Story Short – 03:21
11. Chant No 1 (I Don't Need This Pressure On) – 04:05
12. She Loved Like Diamond – 02:54
13. Paint Me Down – 03:42
14. The Freeze – 03:30
15. Musclebound – 03:57
DOWNLOAD FROM

LMA_SpBa.1985.TSC.rar

Password: www.LosslessMA.net

If you encounter broken links or other problem about this publication, please let me know
and write your comment below. I will reply and fix as soon as possible.