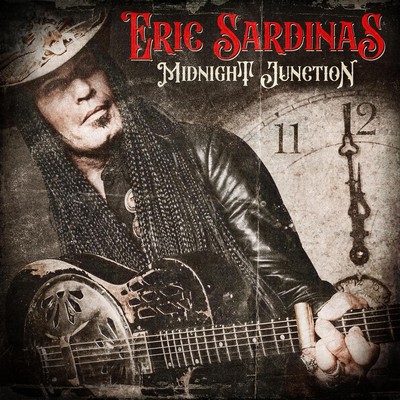 Eric Sardinas – Midnight Junction (2023) [CD-Quality + Hi-Res]
[Official Digital Release]
Hi-Res / FLAC Tracks / 24bit / 44.1kHz | CD-Quality / FLAC Tracks / 16bit / 44.1kHz
Total Size: 1.03 GB
Label: earMUSIC | Genre: Blues, Blues Rock
Blues rocking slide guitarist Eric Sardinas is a bona fide road dog. He's been playing shows all over the world for decades. Perhaps because of that traveling he hasn't released a record since 2014's raucous Boomerang. Midnight Junction, released by earMUsic, is a wooly collection of originals and a lone cover. Longtime compatriots Chris Fraizer (drums) and Dave Schulz (organ and keyboards) appear alongside new bassist Koko Powell (Sheila E, Lenny Kravitz) with producer Matt Gruber helming the boards.
While the guitarist doesn't change up his seasoned formula all that much, some longtime criticisms of his work are no longer valid. A startling example is in the lyrics: While Sardinas isn't writing poignant originals, he is employing fewer cliched blues metaphors and imagery. What's more, the vibe here, while typically rowdy, is less "serious." That means Midnight Junction is a rocking party record top to bottom with some truly stellar moments. Opening single "Long Shot" uses Elmore James' classic "Dust My Broom" slide assault to house-rocking effect. The verse is played in a shuffling swagger adorned with screaming fills, filthy distortion, and uncharacteristically relaxed vocals. Second track and single "Tonight" pulls a classic Johnny Winter move, wedding wooly vintage roots rock and rowdy roadhouse blues. "Planks of Pine" is notable for the dynamic, chanted, call-and-response chorus vocals from the band. "Swamp Cooler" opens with acoustic resonator guitar before blues legend Charlie Musselwhite and his harmonica start trading fours with Sardinas before the band enters a nasty, anthemic instrumental that is equal parts Southern-flavored hard rock, garage band blues, and outlaw swagger. While this could have been a sorry blues album cliche (despite the caliber of the players), it's anything but: The playing by both is inspired, and high-octane with rock-solid support from the rhythm section. Sardinas has always held the late Irish bluesman Rory Gallagher's playing in the utmost esteem. He's covered him in the past and here takes on one of his most iconic songs in "Laundromat," the opening track from Gallagher's eponymous 1971 album. In typical fashion, Sardinas and company play it at almost twice the tempo; astonishingly, it's nearly punk in its intensity. He delivers the vocal with gravely soul, but dirtier. The rock & roll rave-up in the bridge is anthemic here — a show stealer. "Miracle Mile" is a nasty yet soulful Chicago-style blues with killer string pinches and striking Wes Montgomery-esque harmonic invention. Other highlights include "Julep," "Lock and Key," and "Movin' On," all with added women's choruses. The presentation on all three recalls the overdriven sleaze & roll of Black Oak Arkansas; the good-time back porch stomp of "Liquor Store" has the sleaze but a different production style. Finally, the uncharacteristic, instrumental closer "Emelia" has glorious fingerstyle work that unfolds with phase-shifted, multi-layered psychedelia atop modal changes and a soaring finale. Sardinas' fans will certainly enjoy the fingerpopping Midnight Junction to drastically improved songwriting and Gruber's instinctive production skill that frames this raw, manic study in blues power.― Allmusic
Tracklist
01. Long Shot – 04:53
02. Tonight – 03:09
03. Said and Done – 03:16
04. Planks of Pine – 04:13
05. Julep – 03:48
06. Swamp Cooler – 04:24
07. Miracle Mile – 04:13
08. Laundromat – 04:53
09. Muddy Water – 03:57
10. Lock and Key – 04:59
11. White Lightnin' – 04:33
12. Liquor Store – 02:34
13. Emilia – 04:03
———————-
LOG
DYNAMIC RANGE
DOWNLOAD FROM
CD-Quality
LMA_ERSA.2023.MJ._DR_16-44.rar
Hi-Res
LMA_ERSA.2023.MJ._DR_24-44.rar
———————-
If you encounter broken links or other problem about this publication, please let me know and write your comment below. I will reply and fix as soon as possible.