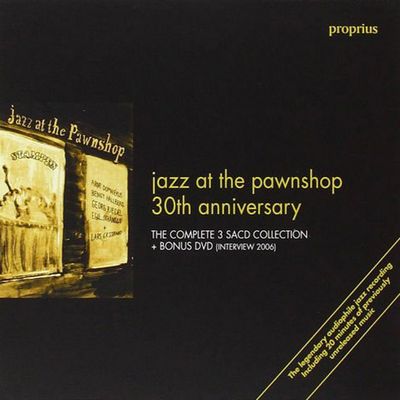 Arne Domnérus – Jazz At The Pawnshop 30th Anniversary (1977)
[2006, Remastered, 3x Discs, Hi-Res SACD Rip]
SACD-ISO / DSD / 1bit / 2.8224MHz
DSF-Tracks / DSD / 1bit / 2.8224MHz
FLAC Tracks / 24bit / 88.2kHz
3x Discs / Stereo & Multichannel | Full Scans Included
Total Size: 10.7 GB (ISO) + 29.6 GB (DSF) + 11.6 GB (FLAC) | 3% RAR Recovery
Label: Proprius | Sweden | Cat#: PRSACD 7879 | Genre: Swing, Jazz
On December 6 and 7, 1976, in a small jazz club called Stampen (The Pawn Shop) in Stockholm's Old Town, Swedish sound engineer Gert Palmcrantz recorded a group of leading Scandinavian jazzmen live, trying to get "the tight, harmonious sound of the records of my childhood." Conditions were less than ideal. A full house, a great deal of background noise. No rehearsals. No sound checks. The musicians just started playing with no one knowing what would be next on the agenda until reedman Arne Domnerus called it.
The result has often been hailed as the best live jazz recording ever. Amazingly, for a small country such as Sweden, the record sold more than half a million copies and still sells, at a rate of around 4,000 copies annually. In the past thirty years it has been re-released in all manner of formats and become a cult album for Hi-Fi freaks, especially in South East Asia, where a Hong Kong audio magazine devoted five pages to an analysis of Palmcrantz's achievement.
Now the icing on the cake: a special three-CD 30th anniversary edition of Jazz at the Pawnshop, with hybrid disks that play on ordinary CD, Stereo SACD and Surround SACD systems. It comes with previously unreleased material, a booklet in which a charmingly modest Palmcrantz very amusingly tells just how he did it. Plus a DVD, featuring interviews with Erstrand and Riedel, recorded in Stampen, with English subtitles.
Sound aside, the music is an absolutely glorious mix that seamlessly knits Ellington with Armstrong, melancholic Swedish folk songs with bop, and two takes of African High Life thrown in for good measure. Domnerus is at the very height of his considerable powers on alto saxophone and clarinet. The highlights are a lovely, lyrical version of "Over The Rainbow" and his booting rendition of Parker's "Now's The Time," which follow one another on the second disc. Pianist Bengt Hallberg, usually an extremely delicate and very measured player, was obviously affected by the general ambience, and here and there cuts loose with awesome force. "Bengt went almost crazy on occasions," bassist Riedel recalls on the DVD. Erstrand, one of Europe's best on vibes, played just one night but added a light, airy feel. He rides high on up-tempo numbers like "Limehouse Blues," but also provides subtle underpinning on ballads including "I'm Confessin'" and "Lady Be Good." ― By Chris Mosey ― Allaboutjazz.com
Disc 1
01. Limehouse Blues – 10:12
02. I'm Confessin' – 08:01
03. High Life – 07:12
04. Jeep's Blues – 06:58
05. Lady Be Good – 09:15
06. Take Five – 06:58
07. Everything Happens To Me – 05:14
08. Barbados – 08:13
09. Stuffy – 07:09
Disc 2
01. Over The Rainbow – 07:16
02. Now's The Time – 09:21
03. Out Of Nowhere – 07:55
04. Take The A Train – 09:34
05. Here Is That Rainy Day – 05:31
06. Struttin With Some Barbeque – 06:43
07. Poor Butterfly – 03:56
08. Exactly Like You – 06:05
09. Jeepers Creepers – 05:07
10. How High The Moon – 06:29
11. Things Ain't What They Used To Be – 08:59
Disc 3
01. In A Mellow Tone – 11:16
02. Gubben Och Källingen – 07:25
03. Nancy With The Laughing Face – 06:28
04. Struttin' With Some – 12:13
05. It Don't Mean A Thing – 03:11
06. Mood Indigo – 06:06
07. Jeep's Blues – 14:16
08. High Life (Take 2) – 06:00
———————-
DYNAMIC RANGE
ISO | DSF | FLAC
INFO
DISCOGS
DOWNLOAD FROM
LMA_ARDO.1977.JATP.30THA.2007_SACD
———————-
If you encounter broken links or other problem about this publication, please let me know and write your comment below. I will reply and fix as soon as possible.