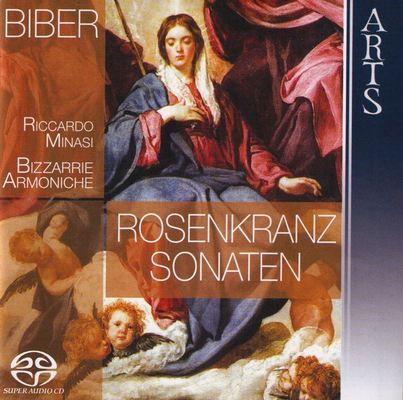 Biber / Bizzarrie Armoniche / Riccardo Minasi – Rosenkranz Sonaten (2008) [Hi-Res SACD Rip]
2x SACD Rip | ISO / DSD / 1bit / 2.8224MHz | FLAC Tracks / 24bit / 88.2kHz
Hybrid SACD | Front & Back Covers Only
Total Size: 7.23 GB (ISO) + 6.02 GB (FLAC Mch) + 2.20 GB (FLAC Stereo) | 3% RAR Recovery
Label: Arts Music | EU | Cat#: 47735-8 | Genre: Classical
Here is something unusual among the growing number of recordings of Heinrich von Biber's Rosary Sonatas; in Arts two-disc SACD set featuring violinist Riccardo Minasi and Bizzarrie Armoniche, Biber's set of 15 Sonatas realized with a full, Italian style continuo and Italian violin ornamentation. The accepted standard, for decades, was continuo realization with organ alone, and eventually the notion of a cello or theorbo joining the band gained acceptance. The group of eight instruments that supplies the continuo here — not necessarily all at once — may seem like overkill to those who are attracted to the austere, ascetic trappings associated with this piece. In addition, that the whole continuo plays all the way through is not necessarily the rule; both continuo and soloist conspicuously hold back in the "Jesus in the Temple" sonata. Arts' recording is well defined and clearly stated, if a little lacking in bass response and, as is often the case in such a long work, the quality of the performance is a little variable. Minasi's interpretation of the rhythm in the scourging sonata may sound a little stilted, but his handling of the fast, virtuosic passages in "The Carrying of the Cross" is very well done and, at times, breathtaking. Sometimes the richness of the continuo takes Biber's music into areas where one wonders it should go; "The Assumption of the Virgin" almost sounds like James Oswald's eighteenth century projections of Scottish folk music. In the booklet, in tiny print rather difficult to read without a magnifying glass, is a stimulating discussion of the Rosary Sonatas from an exegetical and numerological perspective and its possible connection to the music of Johann Sebastian Bach. The overall impression made by this recording, however, is a sense of connection to the music of Vivaldi, an idea that is, in itself, fascinating.
The filler to the two-disc set, as usual, is Biber's G minor Passacaglia for solo violin; indeed, it was included in the original publication of the Rosary Sonatas themselves. Minasi starts well, imbuing the music with ample expressiveness, but over time it gets a little monotonous as he doesn't try to vary the sequences largely. One could also argue that the continuo used in this recording of the Rosary Sonatas represents a sound and style that did not come into existence until 20-30 years after they went into published form. However, these works have only been known since the 1950s, and their gradual ascent to masterwork status, ultimately plugging a gaping historic hole in continental Western instrumental music between the canzone of the Gabrielis and Pachelbel's "Kanon," is unprecedented, and opened the door to the early Baroque apart from vocal and keyboard music. Variety of approach represents the next natural development in the history of a piece that is recorded so often, and this is precisely what Riccardo Minasi and Bizzarrie Armoniche bring to the table. ― Allmusic
Disc 1
Der Freudenreiche Rosenkranz – The Joyful Mysteries Les Mystères – Misteri Gaudiosi
01. Sonata I – Die Verkündigung Mariae – 05:11
02. Sonata II – Mariae Besuch bei Elisabeth – 06:23
03. Sonata III – Christi Geburt – 06:05
04. Sonata IV – Christi Darstellung im Tempel – 08:50
05. Sonata V – Der Zwölfjährige Jesus im Tempel – 08:29
Der Schmerzhafte Rosenkranz – The Sorrowful Mysteries Les Mystères Douloureux – Misteri Dolorosi
06. Sonata VI – Christi Leiden am Ölberg – 07:53
07. Sonata VII – Christi Geißelung – 09:27
08. Sonata VIII – Die Dornenkrönung – 06:00
09. Sonata IX – Die Kreutztragung – 05:55
10. Sonata X – Die Kreutzigung – 09:03
Disc 2
Der Schmerzhafte Rosenkranz – The Glorious Mysteries Les Mystères Glorieux – Misteri Gloriosi
01. Sonata XI – Die Auferstehung – 07:40
02. Sonata XII – Christi Himmelfahrt – 08:10
03. Sonata XIII – Die Sendung des Heiligen Geistes – 08:13
04. Sonata XIV – Mariae Himmelfahrt – 07:21
05. Sonata XV – Die Krönung Mariae – 11:34
06. Passacaglia in G minor, for solo violin – 08:46
———————-
DYNAMIC RANGE
SACD-ISO | SACD-FLAC-Stereo | SACD-FLAC-Mch
INFO
DISCOGS
DOWNLOAD FROM
LMA_BIBER.2008.RS_SACD-FLAC-MCH.part1.rar
LMA_BIBER.2008.RS_SACD-FLAC-MCH.part2.rar
LMA_BIBER.2008.RS_SACD-FLAC-STEREO.rar
LMA_BIBER.2008.RS_SACD-ISO.part1.rar
LMA_BIBER.2008.RS_SACD-ISO.part2.rar
———————-
If you encounter broken links or other problem about this publication, please let me know and write your comment below. I will reply and fix as soon as possible.