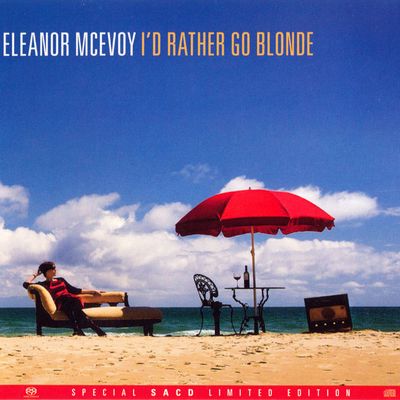 Eleanor McEvoy – I'd Rather Go Blonde (2010) [Hi-Res SACD Rip]
SACD-ISO / DSD / 1bit / 2.8224MHz
DSF-Tracks / DSD / 1bit / 2.8224MHz
FLAC Tracks / 24bit / 88.2kHz
Full Scans Included
Total Size: 676 MB (ISO) + 1.61 GB (DSF) + 799 MB (FLAC) | 3% RAR Recovery
Label: Moscodisc | Ireland | Cat#: MOSACD308 | Genre: World, Country, Folk
I'd Rather Go Blonde features eleven new songs, nine of which were penned by McEvoy, one with Beautiful South man Dave Rotheray and finally a cover of Sam Cooke's Good Times. This limited edition release also includes Take a Little Look with Polish a capella band Banana Boat. I'd Rather Go Blonde is the eighth album in a twenty year career that has seen McEvoy establish herself as one of Ireland's most accomplished singer/songwriters. Never one to shy away from the big issues, this album sees McEvoy tackling themes such as alienation, hypocrisy, recent Irish history and romance. The songs are typified by a lyrical élan and often leavened with a touch of humor – For Avoidance Of Any Doubt features a plaintive soul using her solicitor to berate an absent lover for not returning calls, and the title track is built around a phrase that just made McEvoy laugh!
Tracklist
01. Look Like Me – 02:38
02. Just For The Tourists – 03:22
03. I'd Rather Go Blonde – 02:10
04. Away From You – 03:51
05. Deliver Me (From What You Do) – 03:49
06. Shibboleth – 03:01
07. Take You Home – 03:50
08. The Thought Of You – 03:39
09. Harbour – 03:17
10. For Avoidance Of Any Doubt – 02:58
11. Good Times – 03:02
12. Little Look – 03:24
———————-
DYNAMIC RANGE
ISO | DSF | FLAC
INFO
DISCOGS
DOWNLOAD FROM
LMA_ELMC.2010.IRGB_SACD-DSF.rar
LMA_ELMC.2010.IRGB_SACD-FLAC.rar
LMA_ELMC.2010.IRGB_SACD-ISO.rar
———————-
If you encounter broken links or other problem about this publication, please let me know and write your comment below. I will reply and fix as soon as possible.