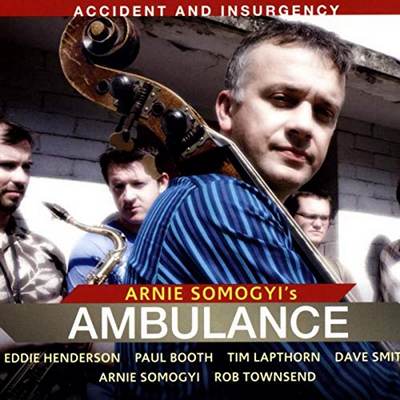 Arnie Somogyi's Ambulance – Accident And Insurgency (2007) [Hi-Res SACD Rip]
SACD Rip | ISO / DSD / 1bit / 2.8224MHz | FLAC Tracks / 24bit / 88.2kHz | Stereo & Multichannel
Hybrid SACD | Scans Included
Total Size: 3.16 GB (ISO) + 2.66 GB (FLAC Mch) + 998 MB (FLAC Mch) | 3% RAR Recovery
Label: Linn Records | EU | Cat#: AKD 306 | Genre: Jazz
The Hungarian bassist Arnie Somogyi, a long-time luminary of the British contemporary scene, recently formed an alliance with the US doctor-turned-jazzman Eddie Henderson, this cemented with an appearance ar Ronnie Scott's and this recording. Much of the music performed here by Somogyi's Ambulance band emerged during a musical development residency at the Snape Maltings, with Henderson added for a May 2006 tour and for this 2007 recording.
Pianist Tim Lapthorn's engaging Walking Wounded, the album's opener, ebbs and flows in the modern way, with Henderson's clarion flugelhorn preceding Paul Booth or Rob Townsend's bustling tenor. In his note, Somogyi explains that most of these pieces are programmatic with allusions to the band's Suffolk experience; thus the perky Captain Courageous is "about a fisherman on Aldeburgh beach who only goes out in really bad weather". Lapthorn's wheezy melodica conveys the wave sounds, as the tempos chop and change. Henderson's poised muted horn opens Lapthorn's ballad Tumbledown, the composer's piano interlude confirming his status as a player to watch.
Here and elsewhere on this stimulating album, it's the sense of ensemble possibilities that strikes you, with subtle variations of tempo and changes of mood, the soloists adding value, the compositional palette atractively varied. There are no simple riffs or blowing heads here, no dominant voices either, more a congenial collective endeavour that certainly deserves your attention. Seldom has the presence of the sea been more eloquently conveyed. Clever stuff for sure. —–www.linnrecords.com
Tracklist
01. Walking Wounded – 07:02
02. Mick the Fish – 02:15
03. Captain Courageous – 08:48
04. Tumbledown – 07:06
05. Lobster Pot 999 – 01:09
06. Don't Improvise – 03:54
07. Solace – 07:31
08. Serenity – 00:45
09. Adrift – 06:26
10. Sirenity (aka deaf on arrival) – 01:04
11. Broadside – 09:24
———————-
DYNAMIC RANGE
SACD-ISO | SACD-FLAC-STEREO | SACD-FLAC-MCH
INFO
DISCOGS
DOWNLOAD FROM
LMA_ASA.2007.AAI_SACD-FLAC-Mch.rar
LMA_ASA.2007.AAI_SACD-FLAC-Stereo.rar
LMA_ASA.2007.AAI_SACD-ISO.rar
———————
If you encounter broken links or other problem about this publication, please let me know and write your comment below. I will reply and fix as soon as possible.