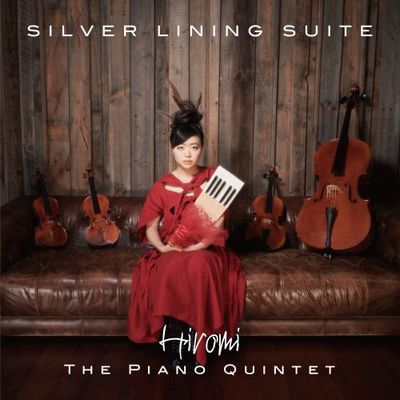 Hiromi Uehara The Piano Quintet – Silver Lining Suite (2021) [Hi-Res SACD Rip]
SACD-ISO / DSD / 1bit / 2.8224MHz
DSF Tracks / DSD / 1bit / 2.8224MHz
FLAC Tracks / 24bit / 88.2kHz
Full Scans Included
Total Size: 2.74 GB (ISO) + 2.69 GB (DSF) + 1.14 GB (FLAC) | 3% RAR Recovery
Label: Telarc | Japan | Cat#: UCGO-9056 | Genre: Contemporary Jazz
Japanese jazz composer and pianist Hiromi Uehara, aka Hiromi, is known for her virtuoso playing, energetic live performances and her mix of different musical genres including stride, post-bop, progressive, jazz rock and classical. The latter is the focus of her new album "Silver Lining Suite". During the quarantine period, she composed the Suite, a piece for piano, two violins, viola and cello divided into four movements: "Isolation", "The Unknown", "Drifters" and "Fortitude". In it, she is supported by a string quartet assembled by Tatsuo Nishie, violinist and concertmaster of the New Japan Philharmonic. Five more Hiromi originals complete the album.
"Silver Lining Suite" is the first album Hiromi recorded in Japan, rather than the US, given the pandemic and nature of this work. Production was handled by Mick M. Sawaguchi of Mick Sound Lab, with mixing and mastering by Robert Friedrich at Five/Four Productions. ― www.jpc.de
Tracklist
01. Silver Lining Suite: Isolation – 09:57
02. Silver Lining Suite: The Unknown – 07:11
03. Silver Lining Suite: Drifters – 09:09
04. Silver Lining Suite: Fortitude – 07:24
05. Uncertainty – 07:52
06. Someday – 05:25
07. Jumpstart – 04:59
08. 11:49PM – 09:56
09. Ribera Del Duero – 04:00
———————-
DYNAMIC RANGE
ISO | DSF | FLAC
INFO
DISCOGS
DOWNLOAD FROM
LMA_HUTPQ.2021.SLS_SACD-DSF.rar
LMA_HUTPQ.2021.SLS_SACD-FLAC.rar
LMA_HUTPQ.2021.SLS_SACD-ISO.rar
———————-
If you encounter broken links or other problem about this publication, please let me know and write your comment below. I will reply and fix as soon as possible.