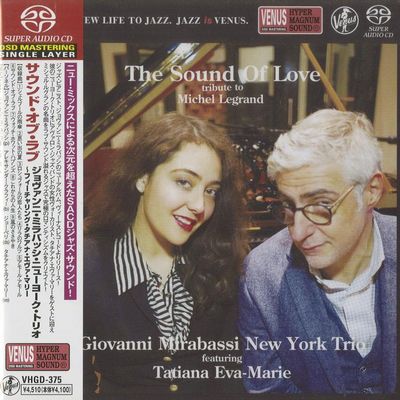 Giovanni Mirabassi New York Trio featuring Tatiana Eva-Marie – The Sound Of Love: Tribute To Michel Legrand (2022) [Hi-Res SACD Rip]
SACD-ISO / DSD / 1bit / 2.8224MHz
DSF-Tracks / DSD / 1bit / 2.8224MHz
FLAC Tracks / 24bit / 88.2kHz
Total Size: 1.80 GB (ISO) + 1.76 GB (DSF) + 828 MB (FLAC) | 3% RAR Recovery
Label: Venus Records | Japan | Cat#: VHGD-375 | Genre: Jazz, Vocal Jazz
A warmly intimate take on the music of Michel Legrand — one that takes all the majesty of his famous compositions, and brings them down to the level of a jazz trio with vocalist — all with a sound that's really beautiful throughout!
Unlike other projects of this nature, Tatiana Eva-Marie sings the originals lyrics in French, not the later translations that showed up on the American market — a quality that really gives the record a special vibe — as does the work of Giovanni Mirabassi on piano, recorded here with surprising use of echo that really gives the whole album a very moody feel.
Other players include Alexander Claffy on bass and Joe Peri on drums – and titles include "Un Ete 42", "Chanson De Maxence", "Amour Amour Je T'Aime Tant", "La Valse Des Lilas", "Les Moulins De Mon Coeur", and "Watch What Happens" — plus Mirabassi's own "The Sound Of Love," a tribute to Legrand. ― store.acousticsounds.com/
Tracklist
01. Les Parapluies De Cherbourg (I Will Wait For You) – 04:13
02. Un Été 42 (The Summer Knows) – 08:05
03. Chanson De Maxence (You Must Believe ln Spring) – 04:17
04. La Valse Des Lilas (Once Upon A Summertime) – 04:08
05. Amour Amour Je t'aime Tant – 05:09
06. The Sound Of Love (tribute to Michel Legrand) – 03:50
07. Watch What Happens – 02:57
08. What Are You Doing The Rest Of Your Life – 05:04
09. Les Moulins De Mon Cœur (The Windmills Of Your Mind) – 05:29
———————-
DYNAMIC RANGE
ISO | DSF | FLAC
INFO
VENUS RECORDS
DOWNLOAD FROM
LMA_GMNYTFTEM_2022.TSOL.TTML_SACD-DSF.rar
LMA_GMNYTFTEM_2022.TSOL.TTML_SACD-FLAC.rar
LMA_GMNYTFTEM_2022.TSOL.TTML_SACD-ISO.rar
———————-
If you encounter broken links or other problem about this publication, please let me know and write your comment below. I will reply and fix as soon as possible.