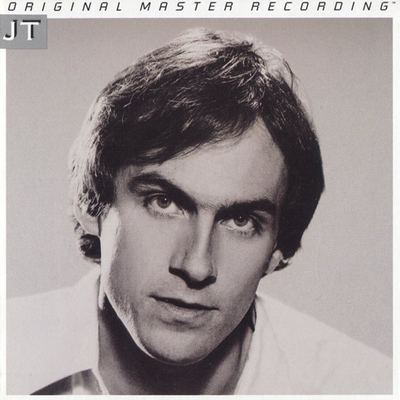 James Taylor – JT (1977) [2011, MFSL Remastered, Hi-Res SACD Rip]
SACD-ISO / DSD / 1bit / 2.8224MHz
DSF Tracks / DSD / 1bit / 2.8224MHz
FLAC Tracks / 24bit / 88.2kHz
CD-Layer / EAC Rip / FLAC Image + Cue + Log
Full Scans Included
Total Size: 1.57 GB (ISO) + 1.54 GB (DSF) + 693 GB (FLAC) + 209 MB (CD-Layer) | 3% RAR Recovery
Label: Mobile Fidelity Sound Lab | US | Cat#: UDSACD 2070 | Genre: Adult Contemporary
Update: CD-Layer & DSF Tracks have been added
James Taylor's best-selling record since 1970's hallmark Sweet Baby James, 1977's JT takes its permanent place as one of the singer's most enduring albums, an affair that gorges on country, blues, and rock styles and incisive songwriting. As the preeminent singer-songwriter's Columbia debut, it catapulted him back into the limelight and reestablished his place as the era's leading-edge folk-rock troubadour.
Mastered from the original analog master tapes, our numbered edition hybrid SACD possesses a warmth, immediacy, and intimacy that surpasses that available on any of Taylor's prior discs. The singer's comforting voice, breath control, and enchanting guitar lines sound as if they pour right out of the studio control room, and the splendid array of backing instrumentation is balanced, vivid, and dynamic. You've never heard Taylor this realistic, warm, or lively.
More than any other of his records, the triple-platinum JT features all sides of Taylor's lyrical persona. Optimistic, content material fills half of the set while Taylor also reveals a darker, moodier identity on a number of songs that keep the 12-track set alternating between shade and light, shadow and sun. He turns romantic and blissful on the touching ballad "There We Are," praises the power of love on "Your Smiling Face," and enchants with the graceful "Secret O'Life."
In addition to the domestic bliss, Taylor also expresses surprise and cynicism on "Honey Don't Leave L.A.," delves into despair on "Another Grey Morning," and invites sardonic tones on "Bartender's Blues." The result is a complete picture of an extraordinary songwriter, and accurate sketches of the mixed emotions so many of us feel. Taylor's ability to capture deep-seeded feelings, and set them to lyrical and musical poetry, explains why we relate to him on such a meta-level. It's also why his music, particularly JT, remains timeless.
Taylor doesn't do it all alone. JT benefits from an all-star support cast. Iconic singers Carly Simon and Linda Ronstadt supply background vocals, saxophone great David Sanborn plays the horn, Russ Kunkel mans the percussion, and legendary arranger David Campbell oversees the strings and woodwinds. It's no wonder why many fans consider this gorgeous collection of Laurel Canyon pop-rock Taylor's finest.
We are honored to have given this easy listening late-70s gem the sonic restoration befitting its brilliant musical content. Whether you've never heard this record or know it inside and out, this hybrid SACD reissue will open your ears to previously hidden details ranging from pedal-steel guitar accents to honky-tonk tonalities that add to the overall enjoyment. Taylor's funky rhythms, too, gain in stature, as does his meticulous command of pace and tempo. Bliss. ― Mofi.com
Tracklist:
01. Your Smiling Face – 02:47
02. There We Are – 03:01
03. Honey Don't Leave L.A. – 03:06
04. Another Grey Morning – 02:44
05. Bartender's Blues – 04:12
06. Secret O' Life – 03:35
07. Handy Man – 03:18
08. I Was Only Telling A Lie – 03:24
09. Looking For Love On Broadway – 02:21
10. Terra Nova – 04:32
11. Traffic Jam – 01:59
12. If I Keep My Heart Out Of Sight – 02:55
———————-
CD LOGS
EAC | CUETOOLS
DYNAMIC RANGE
CD-LAYER | SACD-ISO | SACD-DSF | SACD-FLAC
INFO
DISCOGS
DOWNLOAD FROM
CD-Layer
LMA_JaTa.1977.JT.2011.MFSL_SACD-CD-LAYER.rar
Hi-Res SACD
LMA_JaTa.1977.JT.2011.MFSL_SACD-DSF.rar
LMA_JaTa.1977.JT.2011.MFSL_SACD-FLAC.rar
LMA_JaTa.1977.JT.2011.MFSL_SACD-ISO.rar
———————-
If you encounter broken links or other problem about this publication, please let me know and write your comment below. I will reply and fix as soon as possible.