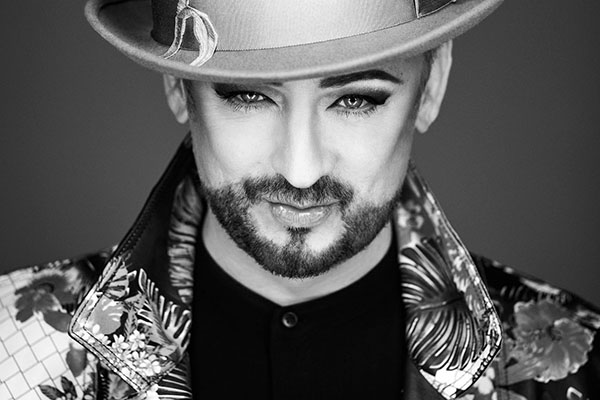 Boy George & Culture Club – Studio Albums (1982-2013)
EAC Rip | FLAC Image + Cue + Log | Full Scans Included
13 Discs | 3% RAR Recovery
Pop / Electronic/ Euro Dance
The early 1980s were filled with pop stars who seemed larger than life, but very few cut as indelible figure as Boy George. During the heyday of Culture Club — which lasted from their first hit, "Do You Really Want to Hurt Me," in 1982 until 1984 — Boy George deftly blended soulful authenticity with knowing artificiality, singing songs inspired by Motown while embracing androgyny. This sly wit was as evident onscreen as it was on record, which is why Culture Club not only became one of the biggest groups on MTV, but why George managed to sustain a long, lasting career following the band's implosion in 1986. The road wasn't easy for Boy George. His initial solo recordings after Culture Club didn't find a wide audience outside of Europe, and he would be occasionally battle drug abuse, but during the '90s, he found a secure footing within electronic dance music, recording his own singles and earning a reputation as a DJ that would last into the 21st century. Boy George would also often circle back into the mainstream, scoring a big hit in 1992 with his version of "The Crying Game," which functioned as the theme to the film of the same name, and racking up a host of Tony nominations for Taboo, the 2004 musical loosely based on his life. With this success behind him, he was the rare New Waver who turned into a pop survivor, sustaining a career that alternated between solo work, DJ'ing, and reuniting with Culture Club. The 2018 release Life, credited to Boy George & Culture Club, returned him to the Top 20 of the U.K. album chart. ― by Allmusic

BOY GEORGE:
1987. Sold (1987, Virgin, CDV2430, UK)
1988. Tense Nervous Headache (1988, Virgin, CDV2546, UK)
1989. High Hat (1989, Virgin, 0777 7 86100 2 1, US)
1995. Cheapness And Beauty (1995, Virgin, 7243 8 40492 2 5, NL)
1998. The Unrecoupable One Man Bandit. Volume One (1999, EFA, EFA 16200-2, EU)
2011. Ordinary Alien (2011, High Note, HN833CD, EU, 2CD)
2013. This Is What I Do (2013, Very Me Records, VME002CD, UK)

CULTURE CLUB:
1982. Kissing To Be Clever (2008, EMI, VJCP-68869, JP)
1983. Colour By Numbers (2008, EM, VJCP-68870, JP)
1984. Waking Up With The House On Fire (2008, EMI, VJCP-68871, JP)
1986. From Luxury To Heartache (1986, Toshiba-EMI, 32VD-1019, JP, Black Triangle)
1999. Don't Mind If I Do (1999, Virgin, 7243 8 48666 2 4, EU)

———————-
DOWNLOAD FROM
Boy George
LMA_BoGe.SA
Culture Club
LMA_CuCl.SA
———————-
If you encounter broken links or other problem about this publication, please let me know and write your comment below. I will reply and fix as soon as possible.