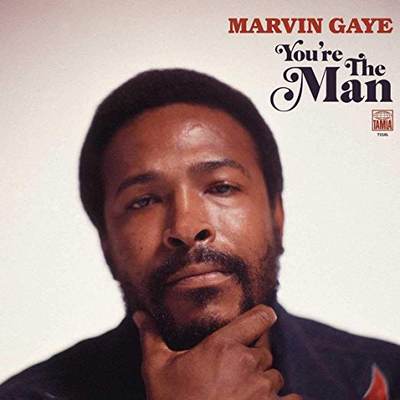 Marvin Gaye – You're The Man (2019) [CD-Format + Hi-Res Vinyl Rip]
2x Vinyl Rip | Hi-Res / FLAC Tracks / 24bit / 192kHz | CD-Format / FLAC Tracks / 16bit / 44.1kHz
Full Scans Included
Total Size: 2.81 GB (Hi-Res) + 746 MB (CD-Format) | 3% RAR Recovery
Label: Tamla / Motown | USA | Cat#: T316L / B0029345-01 | Genre: Funk, Soul
Upon its release in 2019, You're the Man was billed as a "lost" album — an album intended to appear between Marvin Gaye's 1971 masterwork What's Going On and 1973's Let's Get It On. The story isn't quite so simple. Even though Motown slated a release for an album, there's no real indication that You're the Man was ever close to completion, and this compilation — available as a double LP or digitally — doesn't make a convincing case that it was. Part of the problem may be that the material comprising the second half of the 2019 release is a grab bag of session material containing two Christmas songs; a jam with Bohannon where Gaye talks to the listener through the song called "Checking Out (Double Clutch)"; and three new mixes by Salaam Remi, a producer who earned Grammy nominations for his work on the Fugees' 1996 album, The Score, and Amy Winehouse's 2007 record, Back to Black. There are enjoyable moments scattered through these nine tracks — the breezy Latin rhythms on "Woman of the World," the slow-burning "My Last Chance," plus the aforementioned Bohannon number — but it's a clearinghouse whose presence underscores how the proper album itself seems incomplete.
Inspired by the success of the socially conscious What's Going On, Gaye decided to continue in this vein, cutting the politically charged funk tune "You're the Man" and a handful of other message tunes. In this context, "The World Is Rated X" isn't about sex, it's just that society is so dangerous, it should be restricted. Theoretically, this isn't a bad direction for Gaye to pursue, but once "You're the Man" stiffed on the charts — it made it into Billboard's R&B Top 10, but stalled at 50 on the Hot 100 — Motown and Gaye both got cold feet, with Marvin turning his attention to soundtrack work, culminating in the release of Trouble Man later that year. The 2019 LP of You're the Man feels explicitly transitional, with the first side devoted to a funkier version of What's Going On and the second to a proto-Let's Get It On. Appealing ideas and sounds, but the songs tend to be rather blah, suggesting that the LP's cancellation had more to do with the fact that Gaye had yet to find an album within his sessions than anything to do with it being too controversial for its time. Still, it's worth a listen to hear Gaye stretch out and figure out how to move forward: surrounded by Detroit and L.A. studio pros, he's making supple soul, even if it's not especially deep. ― Allmusic
Tracklist
SIDE 1
01. You're The Man – 05:44
02. The World Is Rated X – 03:52
03. Piece Of Clay – 05:09
04. Where Are We Going? – 03:55
SIDE 2
05. I'm Gonna Give You Respect – 02:55
06. Try It, You'll Like It – 03:57
07. You Are That Special One – 03:37
08. We Can Make It Baby – 03:23
SIDE 3
09. My Last Chance – 03:39
10. Symphony – 02:53
11. I'd Give My Life For You – 03:31
12. Woman Of The World – 03:29
13. Christmas In The City – 03:48
SIDE 4
14. You're The Man [version 2] – 04:40
15. I Want To Come Home For Christmas – 04:46
16. I'm Going Home (Move) – 04:41
17. Checking Out (Double Clutch) – 04:53
———————-
DYNAMIC RANGE
HI-RES | CD-QUALITY
INFO
DISCOGS
DOWNLOAD FROM
CD-Quality
LMA_MaGa.2019.YTM_LP_16-44.rar
Hi-Res
LMA_MaGa.2019.YTM_LP_24-192.rar
———————-
If you encounter broken links or other problem about this publication, please let me know and write your comment below. I will reply and fix as soon as possible.