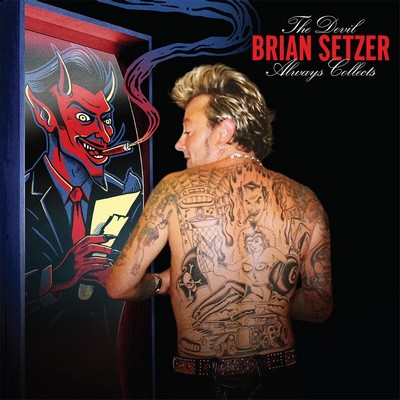 Brian Setzer – The Devil Always Collects (2023) [CD-Quality + Hi-Res]
[Official Digital Release]
Hi-Res / FLAC Tracks / 24bit / 96kHz | CD-Quality / FLAC Tracks / 16bit / 44.1kHz
Total Size: 1.16 GB
Label: Surfdog Records | Genre: Rockabilly
The Devil Always Collects – Brian Setzer Creative sparks and killer riffs are flying everywhere on Brian Setzer's new album The Devil Always Collects out via Surfdog Records. The 3-time Grammy award-winners guitar work is bracingly virtuosic and blazing on these 11 tracks, and his irresistible vocals thrillingly deliver the clever storylines of catchy songs like "The Devil Always Collects," "The Girl On The Billboard," "Black Leather Jacket" and "Rock Boys Rock." Add in non-stop breakneck rhythms, and you have an album-produced by Brian Setzer and Julian Raymond and mixed by Chris Lord-Alge-that stands with Setzer's best. It's always been Brian's special talent to inject the roots of rock with a contemporary freshness that unites fans of rock, Americana, rockabilly, and punk. Although Brian has a 40-year career as a solo artist, leader of The Brian Setzer Orchestra and as a Stray Cat, he continues to play with a jaw-dropping level of vigor.
Tracklist
01. Rock Boys Rock – 03:06
02. The Devil Always Collects – 02:59
03. Girl On the Billboard – 03:54
04. The Living Dead – 03:29
05. What'll It Be Baby Doll? – 04:31
06. Black Leather Jacket – 04:39
07. She's Got A Lotta…Soul! – 03:25
08. Play That Fast Thing (One More Time) – 04:33
09. A Dude'll Do (What a Dude'll Do) – 03:28
10. Psycho Suzie – 03:48
11. One Particular Chick – 04:14
———————-
LOG
DYNAMIC RANGE
DOWNLOAD FROM
CD-Quality
LMA_BRSE.2023.TDAC_DR_16-44.rar
Hi-Res
LMA_BRSE.2023.TDAC_DR_24-96.rar
———————-
If you encounter broken links or other problem about this publication, please let me know and write your comment below. I will reply and fix as soon as possible.