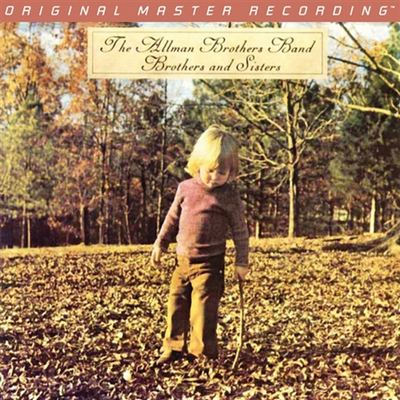 The Allman Brothers Band – Brothers And Sisters (1973)
[2014, MFSL Remastered, CD-Layer + Hi-Res SACD Rip]
SACD-ISO / DSD / 1bit / 2.8224MHz
DSF Tracks / DSD / 1bit / 2.8224MHz
FLAC Tracks / 24bit / 88.2kHz
CD-Layer / EAC Rip / FLAC Tracks + Cue + Log
Full Scans Included
Total Size: 1.60 GB (ISO) + 1.57 GB (DSF) + 755 MB (FLAC) + 267 MB (CD-Layer) | 3% RAR Recovery
Label: Mobile Fidelity Sound Lab | US | Cat#: UDSACD 2103 | Genre: Blues Rock
Update: CD-Layer & DSF Tracks have been added
Brothers and Sisters is the fourth studio album by American rock band the Allman Brothers Band. Produced by Johnny Sandlin and the band themselves, the album was released in August 1973 in the United States by Capricorn Records. Following the death of group leader Duane Allman in 1971, the Allman Brothers Band released Eat a Peach (1972), a hybrid studio/live album that became their biggest yet. Afterwards, the group purchased a farm in Juliette, Georgia, to become a "group hangout". However, bassist Berry Oakley was visibly suffering from the death of Duane: he excessively drank and consumed drugs. After nearly a year of severe depression, Oakley was killed in a motorcycle accident not dissimilar from his friend's in November 1972 making it the last album to feature bassist Berry Oakley, the first to feature bassist Lamar Williams and pianist Chuck Leavell.
The band carried on, adding new members Chuck Leavell on piano and Lamar Williams on bass. Brothers and Sisters was largely recorded over a period of three months at Capricorn Sound Studios in Macon, Georgia. Lead guitarist Dickey Betts assumed the role of band leader, and many of his compositions reflected a more country-inspired sound. Session musicians Les Dudek and Tommy Talton sat in to play guitar on several songs. The album was being produced at the same time as vocalist/organist Gregg Allman's solo debut, Laid Back, and features many of the same musicians and engineers. The front album cover features a photograph of Vaylor Trucks, the son of drummer Butch Trucks and his wife Linda. The back cover features a photograph of Oakley's daughter Brittany and his wife Linda.
The album represented the Allmans' commercial peak: it has sold over seven million copies worldwide, landing it at the time atop of the Top 200 Pop Albums for five weeks. "Ramblin' Man" became the band's first and only hit single, peaking at number two on the Billboard Hot 100 in 1973. The album was followed by a tour of arenas and stadiums, but marred by drug problems, strained friendships and miscommunication between the group members.
Tracklist:
01. Wasted Words – 04:22
02. Ramblin' Man – 04:51
03. Come And Go Blues – 04:57
04. Jelly Jelly – 05:47
05. Southbound – 05:11
06. Jessica – 07:32
07. Pony Boy – 05:53
———————-
CD LOGS
EAC | CUETOOLS
DYNAMIC RANGE
CD-LAYER | SACD-ISO | SACD-DSF | SACD-FLAC
INFO
DISCOGS
DOWNLOAD FROM
CD-Layer
LMA_TABB.1973.BAS.2014.MFSL_SACD-CD-LAYER.rar
Hi-Res SACD
LMA_TABB.1973.BAS.2014.MFSL_SACD-DSF.rar
LMA_TABB.1973.BAS.2014.MFSL_SACD-FLAC.rar
LMA_TABB.1973.BAS.2014.MFSL_SACD-ISO.rar
———————-
If you encounter broken links or other problem about this publication, please let me know and write your comment below. I will reply and fix as soon as possible.