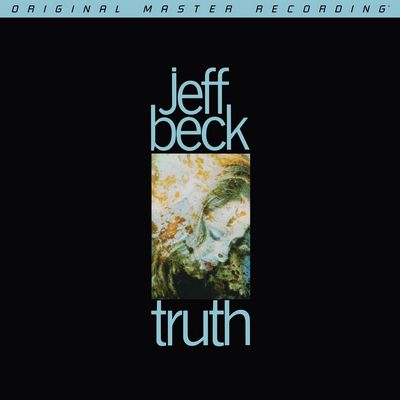 Jeff Beck – Truth (1968) [2021, MFSL Remastered, Hi-Res SACD Rip]
SACD-ISO / DSD / 1bit / 2.8224MHz
DSF-Tracks / DSD / 1bit / 2.8224MHz
FLAC Tracks / 24bit / 88.2kHz
Full Scans Included
Total Size: 1.70 GB (DSF) + 891 MB (FLAC) + 1.75 GB (ISO) | 3% RAR Recovery
Label: Mobile Fidelity Sound Lab | US | Cat#: UDSACD 2223 | Genre: Blues Rock, Classic Rock
Update: DSF Tracks have been added
Truth has since been regarded as a seminal work of heavy metal because of its use of blues toward a hard rock approach. According to Pete Prown and HP Newquist, "although some have claimed that this disc was the first metal album, the sound actually leaned more towards a heavy brand of blues rock." Classic Rock magazine ranked Truth eighth on its list of the 30 greatest British blues rock albums; an accompanying blurb read, "it was an album that not only helped establish the British blues rock sound, but featured many of its best exponents. Tom Scholz of Boston has listed it as his favorite album on Gibson's online magazine, stating, "I knew Jeff Beck's Truth album inside out…" The album's title inspired the name of Iowa band Truth and Janey.
Tracklist
01. Shapes Of Things – 03:23
02. Let Me Love You – 04:44
03. Morning Dew – 04:43
04. You Shook Me – 02:32
05. Ol' Man River – 04:00
06. Greensleeves – 01:50
07. Rock My Plimsoul – 04:15
08. Beck's Bolero – 02:55
09. Blues De Luxe – 07:34
10. I Ain't Superstitious – 04:54
———————-
DYNAMIC RANGE
SACD-DSF | SACD-ISO | SACD-FLAC
INFO
DISCOGS
DOWNLOAD FROM
LMA_JEBE.1968.T.2021.MFSL_SACD-DSF.rar
LMA_JEBE.1968.T.2021.MFSL_SACD-FLAC.rar
LMA_JEBE.1968.T.2021.MFSL_SACD-ISO.rar
———————-
If you encounter broken links or other problem about this publication, please let me know and write your comment below. I will reply and fix as soon as possible.