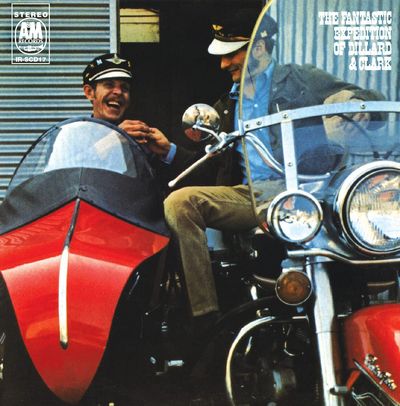 Dillard & Clark – The Fantastic Expedition Of Dillard & Clark (1968) [2022, Remastered, Hi-Res SACD Rip]
SACD-ISO / DSD / 1bit / 2.8224MHz
DSF-Tracks / DSD / 1bit / 2.8224MHz
FLAC Tracks / 24bit / 88.2kHz
Total Size: 1.18 GB (ISO) + 1.16 GB (DSF) + 574 MB (FLAC) | 3% RAR Recovery
Label: Intervention Records | US | Cat#: IR-SCD17 | Genre: Country Rock
What a time 1968 was for the burgeoning country rock scene! Gene Clark and Gram Parsons had introduced rock fans to some country flair with The Byrds' Sweetheart of the Rodeo. After Sweetheart, Parsons broke auspicious new ground with The International Submarine Band (just a year before he'd make The Flying Burrito Brothers' The Gilded Palace of Sin), while Gene Clark teamed with banjo genius Doug Dillard for this bluegrass classic, The Fantastic Expedition of Dillard & Clark.
The picking virtuosity of Dillard, Bernie Leadon and others on this album meshes beautifully with Gene Clark's soulful vocal presence and guitar. The repertoire is endlessly fun and engaging, but punctuated with somewhat somber Clark offerings like "She Darked The Sun" and "Something's Wrong".
Country rock is familiar ground to Intervention fans, as they've already tackled greats from The Flying Burrito Bros., and Gene Clark's amazing solo effort White Light. This is the roots of the music that paved the way for the Eagles and countless others.
The Fantastic Expedition of Dillard & Clark is mastered Direct-to-DSD from the 1/4″ 15-ips Original Analog Master Tapes by Kevin Gray at CoHEARent Audio! The tapes sound beautifully dynamic and alive, with tuneful bass, extended highs and three-dimensional imaging. The IR cut has better separation and punch than ANY previous version of this amazing record! ― elusivedisc.com
Tracklist
01. Out On The Side – 03:49
02. She Darked The Sun – 03:12
03. Don't Come Rollin' – 02:51
04. Train Leaves Here This Mornin' – 03:52
05. With Care From Someone – 03:51
06. The Radio Song – 03:03
07. Git It On Brother – 02:52
08. In The Plan – 02:08
09. Something's Wrong – 03:01
———————-
DYNAMIC RANGE
ISO | DSF | FLAC
INFO
DISCOGS
DOWNLOAD FROM
LMA_DDAGC.1968.TFEODAC.2022_SACD-DSF.rar
LMA_DDAGC.1968.TFEODAC.2022_SACD-FLAC.rar
LMA_DDAGC.1968.TFEODAC.2022_SACD-ISO.rar
———————-
If you encounter broken links or other problem about this publication, please let me know and write your comment below. I will reply and fix as soon as possible.