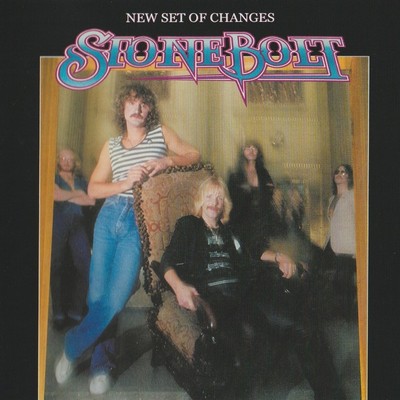 Stonebolt – New Set Of Changes (1980) [2023 Remastered]
EAC Rip | FLAC Image + Cue + Log | Full Scans Included
Total Size: 408 MB
Label: Escape Music | UK | Cat#: ESM372 | Genre: Hard Rock
Stonebolt were a Canadian band based in the Vancouver area and recorded 4 albums between 1978 and 1982. They released their debut album in 1978 on Parachute records and it put them on the map, especially the song "I will still love you" which attracted some chart recognition. When the label "Parachute" folded the band signed with RCA and recorded "Keep it alive" in 1979 , the music was quite poppy during this early era. However, things changed for what is regarded as their best album "New set of changes" which had strong elements of Pomp rock and comparisons could be made to bands such as Styx and Prism. This was released right at the start of the 80's when the Melodic rock era was beginning to come alive. This third album is up there with many other classics though it never really got the attention it deserved. "New Set of Changes" had some really strong tunes and is a pleasure to the ears, opening track "Take the Time" is one of those songs that will be going round in your head even after the first spin. There are many other strong songs on the album and also a bonus track "Back on the bottom line" which was a song that missed a deadline for an album but was a firm favourite in their live shows. Here it is for the very first time as a bonus track. Stonebolt did record a fourth album "Juvenile American Princess" in 1982 and was a worthy addition to the band's roster but "New set of changes" will always sit high above the other releases as their golden moment. This limited edition release will be a great way to remember this Canadian quintet and with more up-to-date production techniques the sound is as fresh as it was in the 1980's.
Tracklist
01. Take The Time – 05:53
02. You Don't Care – 04:53
03. Crying Again Tonight – 04:16
04. Landing In Love – 05:12
05. Please Please Me – 03:49
06. New Set Of Changes – 05:10
07. Come And See Me – 03:22
08. All By Myself – 03:52
09. Here Comes The Rain – 05:04
10. Midnight Angel – 05:24
11. Back On The Bottom Line [Bonus Track] – 04:18
———————-
CD LOGS
EAC | CUETOOLS
INFO
DISCOGS
DOWNLOAD FROM
LMA_STNBLT.1980.NSOC.2023.rar
———————-
If you encounter broken links or other problem about this publication, please let me know and write your comment below. I will reply and fix as soon as possible.