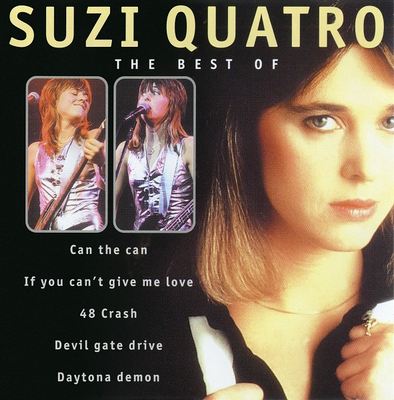 Suzi Quatro – The Best Of Suzi Quatro (1996)
EAC Rip | FLAC Tracks + Cue + Log | Full Scans Included
Total Size: 388 MB | 3% RAR Recovery
Label: Discky Communication | Cat#: DC 870002 | Genre: Hard Rock
Suzi Quatro was hardly the first Tough Girl in rock & roll — there were plenty of precursors, from Wanda Jackson and the Shangri-Las to Grace Slick and Janis Joplin — but Quatro codified a type of rock & roll woman who didn't exist before she took the stage, one who looked as tough as the guys and wasn't merely a singer but also an instrumentalist, the leader of the band who made the noise right along with the rest of the group. With her trademark leather jumpsuit and big bass guitar (which seemed even bigger given her diminutive stature of just five feet), Quatro created a new and potent image for women in rock, one that spoke of both strength and sexiness, and she became a major international star in the '70s, though it would take a while before she was as readily recognized in the United States as in the United Kingdom.
Tracklist:
01. Can The Can – 03:35
02. 48 Crash – 03:54
03. Devil Gate Drive – 03:48
04. Daytona Demon – 04:00
05. All Shook Up – 03:48
06. Keep A Knockin' – 03:15
07. I May Be Too Young – 02:58
08. I Bit Off More Than I Could Chew – 03:44
09. Wake Up Little Susie – 02:51
10. Heartbreak Hotel – 03:52
11. Hurts – 02:46
12. Don't Break My Heart – 02:56
13. I've Never Been In Love – 03:03
14. Mama's Boy – 03:36
15. The Race Is On – 03:57
16. If You Can't Give Me Love – 03:52
———————-
CD LOGS
EAC | CUETOOLS
INFO
DISCOGS
DOWNLOAD FROM
LMA_SUQU.1996.TBOSQ.rar
———————-
If you encounter broken links or other problem about this publication, please let me know and write your comment below. I will reply and fix as soon as possible.