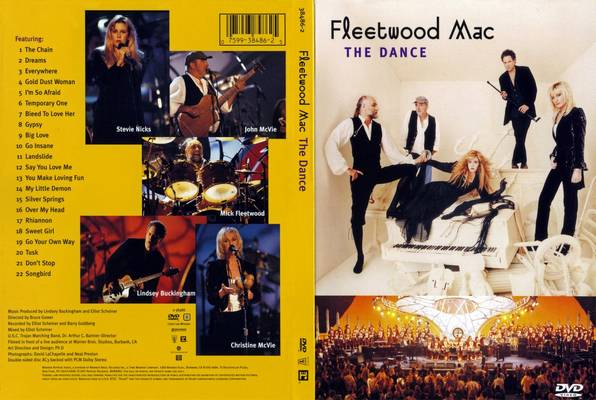 Fleetwood Mac – The Dance (1997) DVD
2xDVD-5 (DVD-10) | VIDEO_TS | NTSC 4:3 (720×480) VBR | Dolby Digital 5.1 Surround / LPCM 2.0 Stereo
Total Size: 8.60 GB | 3% RAR Recovery
Label: Warner Reprise Video | USA | Genre: Pop Rock
The Dance is a live album by Fleetwood Mac, released in 1997. It hailed the return of the band's most successful line-up of Lindsey Buckingham, Mick Fleetwood, Christine McVie, John McVie and Stevie Nicks, who had not released an album together since 1987's Tango in the Night a decade earlier. It was the first Fleetwood Mac release to top the U.S. album charts since 1982's Mirage.
Additional Info:
• Released Date: August 19 1997
• More info
Setlist:
01. The Chain
02. Dreams
03. Everywhere
04. Gold Dust Woman
05. I'm So Afraid
06. Temporary One
07. Bleed To Love Her
08. Gypsy
09. Big Love
10. Go Insane
11. Landslide
12. Say You Love Me
13. You Make Loving Fun
14. My Little Demon
15. Silver Springs
16. Over My Head
17. Rhiannon
18. Sweet Girl
19. Go Your Own Way
20. Tusk
21. Don't Stop
22. Songbird