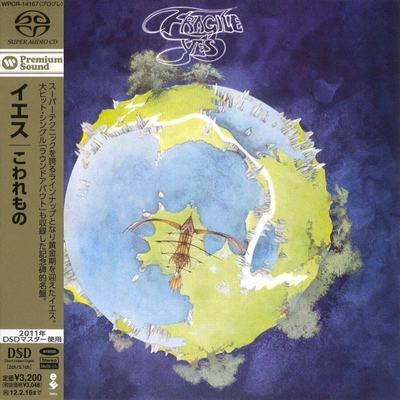 YES – Fragile (1971) [2011, Japan, CD-Layer & Hi-Res SACD Rip]
EAC Rip | FLAC Image + Cue + Log | Full Scans Included
SACD Rip | ISO @1bit/2.8224MHz, DSD64 | FLAC Tracks @24bit/88.2kHz | Stereo & Multichannel
Total Size: 380 MB (CD-Layer) + 3.62 GB (SACD ISO) + 2.83 GB (SACD FLAC Multichannel) + 1.05 GB (SACD FLAC Stereo) | 3% RAR Recovery
Label: Warner Music | Japan | Cat#: WPCR 14167 | Genre: Progressive Rock
Fragile is the fourth studio album by the English rock band Yes, released in November 1971 by Atlantic Records. After touring in support of their previous album, The Yes Album (1971), the band entered rehearsals in London in preparation for their next studio album. Early into the sessions, keyboardist Tony Kaye was fired over his lack of interest in learning more electronic keyboards. He was replaced with Rick Wakeman of the Strawbs, whose experience with various instruments helped expand the group's sound with the addition of the electric piano and harpsichord, Mellotron, and Minimoog synthesiser. Four tracks are group performances; the remaining five are solo features written by each member. The cover is their first illustrated by Roger Dean, who would design many of their future logos, covers and stage sets.
Fragile received a positive reception upon its release and was a commercial and critical success, reaching number 4 on the US Billboard Top LPs chart and number 7 on the UK Albums Chart. Yes released an edited version of "Roundabout" as the album's single in the US which reached number 13, and remains one of the band's best known songs. Fragile is certified 2× platinum by the Recording Industry Association of America for selling over two million copies in the US. It has been remastered several times since its release, some containing previously unreleased tracks.
Tracklist:
01. Roundabout – 08:37
02. Cans And Brahms – 01:44
03. We Have Heaven – 01:29
04. South Side Of The Sky – 08:10
05. Five Per Cent For Nothing – 00:37
06. Long Distance Runaround – 03:31
07. The Fish (Schindleria Praematurus) – 02:43
08. Mood For A Day – 03:03
09. Heart Of The Sunrise – 11:33
10. America – 10:34
———————-
INFO
DISCOGS
DOWNLOAD FROM
LMA_YES.1971.F.JAP_SACD
———————-
If you encounter broken links or other problem about this publication, please let me know and write your comment below. I will reply and fix as soon as possible.