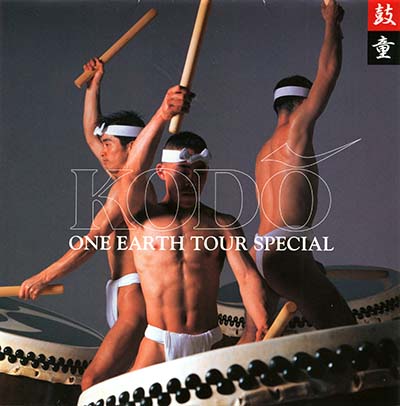 Kodō – One Earth Tour Special (2004) [Remastered, Hi-Res SACD Rip]
SACD Rip | ISO / DSD / 1bit / 2.8224MHz | FLAC Tracks / 24bit / 88.2kHz | Stereo & Multichannel
Hybrid SACD | Full Scans Included
Total Size: 4.21 GB (ISO) + 2.95 GB (FLAC Mch) + 1.09 GB (FLAC Stereo) | 3% RAR Recovery
Label: Sony Music | Japan | Cat#: SICL 10001 | Genre: Folk, World, Country
Since their debut at the Berlin Festival in 1981 , Kodo has brought the sound of the taiko to the ears of the world through their ongoing "One Earth Tour" Through this continuing project Koda uses the taiko's unique ability to transcend language and cultural barriers and reminds listeners in all places of their membership in a larger community : the world.
Spending about a third of the year overseas, a third touring in Japan, and a third on their home of Sado Island, to date Koda has delighted audiences in over 2600 performances in 42 countries around the world. In 2001 Koda became the first Japanese artists to grace the stage of the prestigious Nobel Peace Prize Concert in Oslo, Norway. The following year the group helped craft the 2002 FIFA World Cup KOREA/JAPAN™ theme song and appeared in the official concert of this international event. Koda was also featured on the soundtrack of the Chinese epic motion picture "HERO" which was released in Japan in 2003.
Tracklist
01. Kiyari – 02:08
02. O-daiko – 09:17
03. Yatai-Bayashi – 08:59
04. Kenbai (interlude) – 01:17
05. Tomoe – 08:41
06. Furyu(interlude) – 00:19
07. Hyoshigi-Kono Mine no – 03:39
08. Sado e – 21:23
09. Encore – 08:27
———————-
DYNAMIC RANGE
SACD-ISO | SACD-FLAC-STEREO | SACD-FLAC-MCH
INFO
DISCOGS
DOWNLOAD FROM
LMA_KODO.2004.OETS_SACD-FLAC-MCH.rar
LMA_KODO.2004.OETS_SACD-FLAC-STEREO.rar
LMA_KODO.2004.OETS_SACD-ISO.rar
———————-
If you encounter broken links or other problem about this publication, please let me know and write your comment below. I will reply and fix as soon as possible.