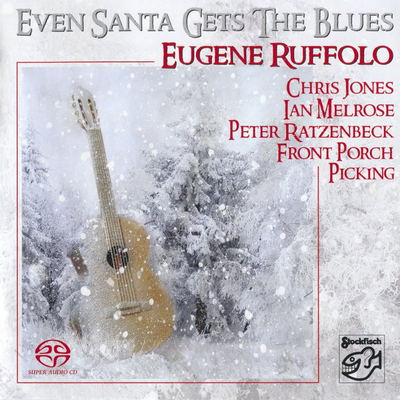 Eugene Ruffolo – Even Santa Gets The Blues (2009) [Hi-Res SACD Rip]
SACD Rip | ISO / DSD / 1bit / 2.8224MHz | FLAC Tracks / 24bit / 88.2kHz
Hybrid SACD | Full Scans Included
Total Size: 2.12 GB (ISO) + 978 MB (FLAC) | 3% RAR Recovery
Label: Stockfisch Records | Germany | Cat#: SFR 357.4066.2 | Genre: Pop, World, Xmas
When it comes to Christmas, there are two camps. There are those who find it commercial and hollow, and those who are bewitched by the season's traditions, music, and unique magic. 1 fall decidedly in the latter category. lt's long been an ambition of mine to record a Christmas CD, and when I approached Günter Pauler with the idea last year, he was more than enthusiastic.
So I set out upon the formidable task of choosing my favorite Christmas songs. 1 decided on sorne timeless standards, and a few unknown gems. Then I sat down and penned a few of my own (destined to become evergreens!). Günter and I set aside two weeks in August to lay them down.
So Margaret and I boarded a plane and headed to Northeim Germany where we met lan Melrose, spent a while kicking around sorne ideas, and then started recording! lt's a bit strange to be singing about Santa in the dead of summer, but we had little trouble summoning the Christmas spirit. 1 sure hope you like result.
My sincerest thanks to Günter for making this recording possible. Thanks also to the entire Stockfisch family: Evelyn, Inés, Hendrik and Hans-Jorg for mailing our stay so comfortable and so much fun.
Tracklist
01. Eugene Ruffolo – Let It Snow – 02:33
02. Eugene Ruffolo – Here It Is Christmas – 03:37
03. Eugene Ruffolo – The Sweetest Part – 03:31
04. Eugene Ruffolo – Baby It's Cold Outside – 03:30
05. Eugene Ruffolo – Christmas Time Is Here – 02:34
06. Eugene Ruffolo – I Saw Mommy Kissing Santa Claus – 01:39
07. Chris Jones & Ian Melrose – Away In A Manger – 02:56
08. Eugene Ruffolo – The Christmas Song – 03:09
09. Eugene Ruffolo – Nothing But A Child – 04:03
10. Chris Jones & Peter Ratzenbeck – Stille Nacht – 02:37
11. Eugene Ruffolo – Silver Bells – 03:05
12. Front Porch Picking – Jingle Bells – 02:08
13. Eugene Ruffolo – Even Santa Gets The Blues – 03:10
14. Eugene Ruffolo – One Bright Star – 02:47
15. Eugene Ruffolo – O Holy Night – 04:36
16. Eugene Ruffolo – We Three Kings – 05:08
———————-
DYNAMIC RANGE
SACD-ISO | SACD-FLAC
INFO
DISCOGS
DOWNLOAD FROM
LMA_EuRu.2009.ESGTB_SACD-FLAC.rar
LMA_EuRu.2009.ESGTB_SACD-ISO.rar
———————-
If you encounter broken links or other problem about this publication, please let me know and write your comment below. I will reply and fix as soon as possible.