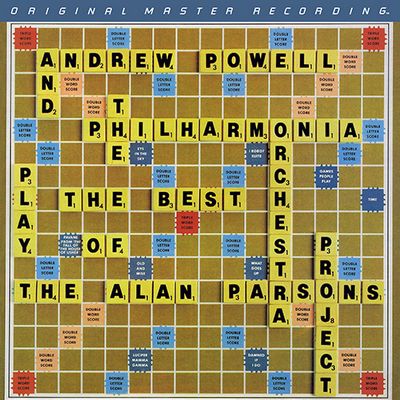 Andrew Powell And The Philharmonia Orchestra – Play The Best Of The Alan Parsons Project (1983) [MFSL, Remastered, CD-Quality + Hi-Res Vinyl Rip]
Vinyl Rip | Hi-Res / FLAC Tracks / 24bit / 96kHz | CD-Quality / FLAC Tracks / 16bit / 44.1kHz
Full Scans Included
Total Size: 997 MB (Hi-Res) + 280 MB (CD-Quality) | 3% RAR Recovery
Label: Mobile Fidelity Sound Lab | Pressed In Japan | Cat#: MFSL 1-175 | Genre: Classical, Progressive Rock
Half-Speed Mastered
The rather wordily titled "Andrew Powell and the Philharmonia Orchestra Play the Best of The Alan Parsons Project" was mainly recorded at Abbey Road, with the exception of the orchestral session for the I Robot Suite, which was done at CTS in Wembley. It was Helmut Fest at EMI Records who suggested using the Scrabble board as a way of getting around the world's longest album title. One of the biggest difficulties I found in orchestrating these tunes is that certain kinds of "rock" themes sound like muzak if they are played by a violin or other string section: hence the solo sax on Games People Play.
I also deliberately started some of the tracks with an intro which didn't give the following song away! The I Robot Suite was an interesting challenge – at times there are themes from two songs being played at once as counter-melodies to each other – it was fun to try to link songs whose musical styles were quite different: I wanted to do something different with one of my favourite albums. —by www.andrewpowell.com
Tracklist
01. Lucifer (+Mammagamma) – 05:32
02. Time – 05:06
03. Games People Play – 04:14
04. I Robot Suite – 08:19
05. Damned If I Do – 03:39
06. (The Fall Of The House Of Usher) Pavane – 04:42
07. What Goes Up – 05:34
08. Eye In The Sky – 04:23
09. Old And Wise – 05:02
———————-
LOG
DYNAMIC RANGE
INFO
DISCOGS
DOWNLOAD FROM
CD-Quality
LMA_APATPO.1983.PTBOTAPP.MFSL_LP_16-44.rar
Hi-Res
LMA_APATPO.1983.PTBOTAPP.MFSL_LP_24-96.rar
———————-
If you encounter broken links or other problem about this publication, please let me know and write your comment below. I will reply and fix as soon as possible.