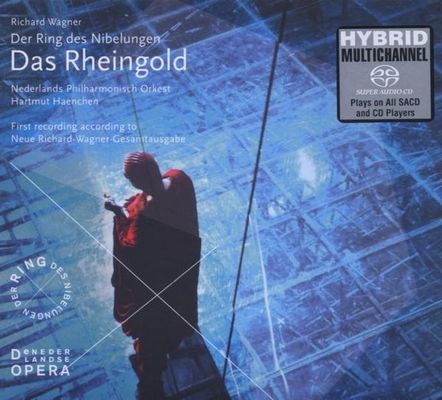 Nederlands Philharmonisch Orkest / Hartmut Haenchen – Richard Wagner: Der Ring Des Nibelungen Das Rheingold (2006) [Hi-Res SACD Rip]
SACD-ISO / DSD / 1bit / 2.8224MHz
DSF-Tracks / DSD / 1bit / 2.8224MHz
FLAC Tracks / 24bit / 88.2kHz
2x Discs | Stereo & Multichannel
Total Size: 20.7 GB (ISO) + 7.89 GB (DSF) + 6.76 GB (FLAC) | 3% RAR Recovery
Label: Et'cetera | EU | Cat#: KTC 5500 | Genre: Classical
The third part to be released of the new Dutch Ring, assembled from live performances of the partly recast revival of Pierre Audi's staging, continues Hartmut Haenchen's intriguing use of the small detail in the New Critical Edition scores. The study of timpani and percussion instructions results in a ferocious cannonade that launches the rainbow bridge to Valhalla without need of John Culshaw's sheet metal and trick acoustics for Decca. A close look at the written dynamics of Wotan's part turns phrases previously delivered full pelt into bitter asides (like "widerlich ist mir's" – "it irks me" – as the gold is piled up to ransom Freia). And the first appearance of the Valhalla theme is played here "absolutely without dragging" (as Wagner requested during Bayreuth rehearsals) instead of the habitual Brucknerian grandeur.
Throughout, Haenchen makes the music sound of its time, be it a light Mendelssohnian (or, perhaps, French) grace for the watery figures accompanying the Rhinedaughters, or the flexible, almost improvised recitative which carries the many conversations of this work. It's truly a Rheingold informed by period-instrument practice, but don't imagine for a moment that noise (bringing up of the gold in scene 4) or dramatic brio (the run-in to Erda's intervention) are not all there when needed.
The opera is cunningly cast. As in Siegfried, veterans make their mark alongside newer-comers: Anne Gjevang's imperiously seductive Erda, Graham Clark's Mime (sung and acted like this, you see why the "Mit arger List" narrative used to be applauded and encored) and Doris Soffel's Fricka (who, like a great forerunner, Josephine Veasey, does so much with the relatively small amount of text). Dohmen's Wotan mixes bluster and grandeur better than in previous instalments; the giants and Donner put cultured, strong voices to great dramatic use (Luperi's "Nun blinzle nach Freias Blick" is terrifying). Werner Van Mechelen, an experienced Mozart and Lieder singer, is a smaller, purer-voiced Alberich than traditionally heard; his first great monologue in Nibelheim is a little smooth but, supported with limpet-like tenacity by Haenchen, the cursing of the lost ring hits home. Chris Merritt's Loge is large, flappy and often a thief of musical time.
The recording is an honest souvenir of the Muziektheater's warm acoustic and the intense mobility of the stage production. Only proceed with caution if you are super-allergic to stage noise and interpolated laughs and barks, or, musically, you want all Wagner sounding like late Wagner in a bathroom. Otherwise, a great modern Ring continues.― www.gramophone.co.uk
Disc 1
01. Vorspiel – 04:25
02. Erste Szene: Weia! Waga! Woge, Du Welle – 10:08
03. Erste Szene: Lugt, Schwestern! Die Weckerin Lacht In Den Grund – 06:00
04. Erste Szene: Der Welt Erbe Gewaenn' Ich Zu Eigen Durch Dich? – 04:11
05. Erste Szene: Wotan, Gemahl! Erwache! – 09:59
06. Erste Szene: Sanft Schloß Schlaf Dein Aug' – 08:50
07. Erste Szene: Endlich Loge! – 03:56
08. Erste Szene: Immer ist Undank Loges Lohn! – 04:05
09. Erste Szene: Dir's zu melden, gelobt' ich den Mädchen – 08:44
10. Erste Szene: Über Stock und Stein zu Tal – 04:55
11. Erste Szene: Wotan, Gemahl! Unsel'ger Mann! – 04:23
12. Erste Szene: Hehe! Hehe! Hierher! Tueckischer Zwerg! – 00:42
Disc 2
01. Dritte Szene: Schau, Du Schelm! – 03:28
02. Dritte Szene: Wer hälfe mir? – 06:11
03. Dritte Szene: Was Wollt Ihr Hier? – 04:17
04. Dritte Szene: Auf Wonnigen Hoh'n – 05:54
05. Dritte Szene: Ohe! Ohe! Schreckliche Schlange – 06:31
06. Vierte Szene: Da, Vetter, Sitze Du Fest! – 04:48
07. Vierte Szene: Gezahlt Hab' Ich; Nun Laßt Mich Zieh'n! – 05:49
08. Vierte Szene: Bin Ich Nun Frei? – 04:14
09. Vierte Szene: Fasolt Und Fafner Nahen Von Fern – 08:12
10. Vierte Szene: Freia, Die Schöne, Schau' Ich Nicht Mehr – 02:37
11. Vierte Szene: Weiche, Wotan, Weiche – 06:47
12. Vierte Szene: Halt, Du Gieriger! – 04:13
13. Vierte Szene: Schwüles Gedünst Schwebt In Der Luft – 04:29
14. Vierte Szene: Abendlich Strahlt Der Sonne Auge – 03:51
15. Vierte Szene: Rheingold! Rheingold! Reines Gold! – 04:11
———————-
DYNAMIC RANGE
ISO | DSF | FLAC
DOWNLOAD FROM
LMA_RW.HH.2006.RW.DRDNDR_SACD
———————-
If you encounter broken links or other problem about this publication, please let me know and write your comment below. I will reply and fix as soon as possible.