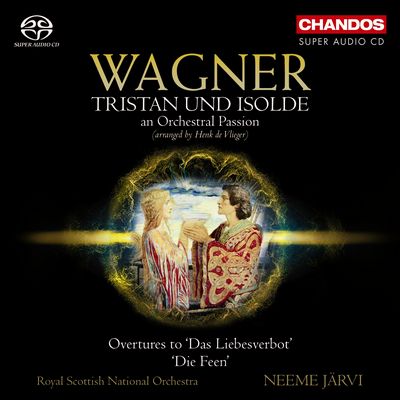 Royal Scottish National Orchestra / Neeme Järvi – Wagner: Tristan und Isolde an Orchestral Passion / Overtures to 'Das Liebesverbot' 'Die Feen' (2011) [Hi-Res SACD Rip]
SACD-ISO / DSD / 1bit / 2.8224MHz
DSF-Tracks / DSD / 1bit / 2.8224MHz
FLAC Tracks / 24bit / 88.2kHz
Stereo & Multichannel | Digital Booklet
Total Size: 3.46 GB (ISO) + 10 GB (DSF) + 3.91 GB (FLAC) | 3% RAR Recovery
Label: Chandos | UK | Cat#: CHAN 5087 | Genre: Classical
Neeme Järvi is back conducting the Royal Scottish National Orchestra in the third of four albums featuring Henk de Vlieger's bold arrangements of operas by Wagner. Of the first album (CHSA 5060), Classic FM wrote: 'Dutch composer Henk de Vlieger builds a penetrating symphonic poem that reflects the dramatic depths of The Ring.' In Volume 3, De Vlieger turns to Wagner's tragic-romantic opera Tristan und Isolde, which is here treated symphonically. The key themes of anticipation, longing, rapture, separation, hope, death, and transfiguration are expressed solely through orchestral forces. A particularly striking feature of the lovers' duet, a movement entitled 'Nachtgesang', is the conspicuous presence of the violin and the clarinet, which pick out the sung parts of the two lovers. The movement ends on an unresolved chord followed by a compelling caesura, which symbolises the painful realisation that it will never be possible for them to fulfil their great love.
This disc also includes the overture to Wagner's Die Feen. This was the composer's first great romantic, although less well-known, opera. The overall style of the work, based on La donna serpente by Carlo Gozzi, owes its essentials to Beethoven, Marschner, and Weber – something that Wagner himself never hid in the least. However, the opera also displays clearly audible foreshadowings of the composer's later works, Tannhäuser and Lohengrin, in particular.
Wagner based Das Liebesverbot on Shakespeare's Measure for Measure, and included on this disc is the overture to the opera. It is perhaps the most Mediterranean-sounding of the composer's operas, something especially apparent in the brimming vitality of the overture in which the tone is set straight away by the sparkling contributions of castanets, triangle, and tambourine. Described as a 'große komische Oper', it was composed in 1834, and Wagner conducted the premiere at Magdeburg in 1836. The first performance poorly attended and involving a lead singer who forgot the words and had to improvise, the opera was a resounding flop and its second performance had to be cancelled after a fist-fight broke out backstage between the prima donna's husband and a leading tenor before the curtain had even risen. The opera was never performed again in Wagner's lifetime. ― chandos.net
Tracklist
Overture to 'Das Liebesverbot'
01. Molto vivace – Allegro con fuoco – Presto – 08:16
Overture to 'Die Feen'
02. Adagio – Un poco meno adagio – Tempo I – Allegro con molto fuoco – Più allegro – 10:48
Tristan und Isolde, an orchestral passion – Arranged 1994 by Henk de Vlieger (b. 1953)
03. Einleitung. Langsam und schmachtend – – 06:41
04. Isoldes Liebesverlangen. Sehr lebhaft – Immer belebter – Ruhiger und allmählich immer langsamer – – 08:12
05. Nachtgesang. Mäßig langsam – Breiter – Wieder mäßig langsam – Erstes Tempo – Immer mehr belebend – Immer belebter – Lebhaft, mit Steigerung – Sehr lebhaft und schnell – Sehr drängend – Immer etwas drängend – Noch drängender – Sehr schnell – Immer sehr schnell – Etwas mäßiger – Allmählich etwas langsamer – Mäßig bewegt – 15:42
06. Vorspiel und Reigen. Mäßig langsam – – 05:31
07. Tristans Vision. [Mäßig langsam] – Sehr ruhig und nicht schleppend – Immer breiter – Breit – – 04:00
08. Das Wiedersehen. Etwas lebhafter – Allmählich immer mehr belebend – Sehr lebhaft – Noch schneller – Noch mehr beschleunigend – Früheres Zeitmaß – Sehr lebhaft – Sehr allmählich nachlessend im Zeitmaß – Sehr langsam – Langsam – – 05:55
09. Isoldes Liebestod. Sehr mäßig beginnend – Etwas bewegter – 05:29
———————-
DYNAMIC RANGE
ISO | DSF | FLAC
INFO
SA-CD.NET
DOWNLOAD FROM
LMA_RW.NJ.2011.W.TUI-O_SACD-DSF-MCH.part1.rar
LMA_RW.NJ.2011.W.TUI-O_SACD-DSF-MCH.part2.rar
LMA_RW.NJ.2011.W.TUI-O_SACD-DSF-STEREO.rar
LMA_RW.NJ.2011.W.TUI-O_SACD-FLAC-MCH.rar
LMA_RW.NJ.2011.W.TUI-O_SACD-FLAC-STEREO.rar
LMA_RW.NJ.2011.W.TUI-O_SACD-ISO.rar
———————-
If you encounter broken links or other problem about this publication, please let me know and write your comment below. I will reply and fix as soon as possible.