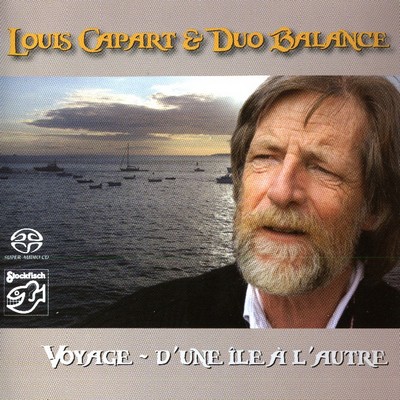 Louis Capart & Duo Balance – Voyage – D'Une Ile A L'Autre (2008) [Hi-Res SACD Rip]
SACD-ISO / DSD / 1bit / 2.8224MHz
DSF-Tracks / DSD / 1bit / 2.8224MHz
FLAC Tracks / 24bit / 88.2kHz
Full Scans Included
Total Size: 1.56 GB (DSF) + 1.07 GB (FLAC) + 2.31 GB (ISO)
Label: Stockfisch Records | Germany | Cat#: SFR 357.4043.2 | Genre: Folk, World
Connoisseurs will remember: While English is often the native tongue of Stockfisch artists, it was Duo Balance who first published their songs in French and German on this label. Christine Maringer-Tries and Hans-Peter Tries – the couple behind Duo Balance – have for many years had a deep friendship with Louis Capart, singer and songwriter from Brittany.
Friendship can bring about marvelous things: It can stabilize peace between nations (two of the songs deal with Gottingen and Berlin) and it can add valuable experiences to the life of the individual. And in this case – one may add – to the life of the listener, who – as usual with Stockfisch – enjoys a great-sounding recording.
Furthermore, in Louis Capart, he will meet a remarkable singer. The man shown on the cover is one fine specimen of a Breton: with his expressive, weathered countenance, he looks like someone matured in the traditions of his home country and equally at home in the realm of free thinking. The singer Louis Capart is a philosopher whose themes are life (today's and that of days gone by), love the meaning of it all and the search for it. He would certainly not be French if, instead of becoming melancholic, his songs would not show a certain sense of lightness and grace.
And Duo Balance fits into this music congenially, singing together with Louis Capart in perfect harmony: in their soloist parts, as well as performing songs for two or three voices. They are accompanied by some virtuosic instrumentalists creating a relaxed musical collage. This being so because – as Picasso stated – art removes the dust of daily toil from our souls.
Tracklist
01. Au large du Gueveur – 05:15
02. Floraison – 03:59
03. Il faudra que je me souvienne – 03:11
04. Marie-Jeanne-Gabrielle – 05:06
05. Berlin – 05:08
06. Maintenant ou jamais – 02:09
07. Göttingen – 02:45
08. Cette chanson qui ne vient jamais – 03:10
09. Loguivy de la mer – 03:29
10. Différents mais tous pareils – 04:50
11. Le Présent Têtu – 03:35
12. Patience – 04:38
13. Au large du Gueveur – Reprise – 06:43
———————-
DYNAMIC RANGE
DSF | ISO | FLAC
INFO
DISCOGS
DOWNLOAD FROM
LMA_LC&DB.2008.VDUIALA_SACD-DSF.rar
LMA_LC&DB.2008.VDUIALA_SACD-FLAC.rar
LMA_LC&DB.2008.VDUIALA_SACD-ISO.rar
———————-
If you encounter broken links or other problem about this publication, please let me know and write your comment below. I will reply and fix as soon as possible.