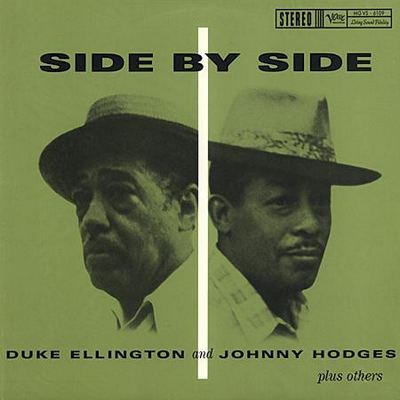 Duke Ellington And Johnny Hodges – Side By Side (1959) [2012, Remastered, Hi-Res SACD Rip]
SACD Rip | ISO / DSD / 1bit / 2.8224MHz | FLAC Tracks / 24bit / 88.2kHz
Hybrid SACD | Back & Front Covers Included
Total Size: 1.85 GB (ISO) + 856 MB (FLAC) | 3% RAR Recovery
Label: Analogue Productions | USA | Cat#: CVRJ 6109 SA | Genre: Post Bop, Swing
Although it is billed as a Duke Ellington and Johnny Hodges album, Side by Side is a 1959 album mostly under the leadership of Johnny Hodges, Duke Ellington's alto saxophonist for many years. Ellington only appears on three of this album's tracks. The album places Hodges at the fore, backing him with piano by Ellington or Billy Strayhorn and providing other accompaniment by well-known jazz figures like Ben Webster, Roy Eldridge, Harry "Sweets" Edison and Jo Jones. The album, a follow-up to the popular Back to Back: Duke Ellington and Johnny Hodges Play the Blues, has remained perpetually in print.
Tracklist
01. Stompy Jones – 06:44
02. Just Squeeze Me – 04:39
03. Big Shoe – 05:39
04. Going Up – 04:55
05. Just a Memory – 05:56
06. Let's Fall in Love – 06:50
07. Ruint – 02:35
08. Bend One – 03:01
09. You Need to Rock – 05:5
———————-
DYNAMIC RANGE
ISO | FLAC
INFO
DISCOGS
DOWNLOAD FROM
LMA_DE&JH.1959.SBS.2012.AP_SACD-FLAC.rar
LMA_DE&JH.1959.SBS.2012.AP_SACD-ISO.rar
———————-
If you encounter broken links or other problem about this publication, please let me know and write your comment below. I will reply and fix as soon as possible.