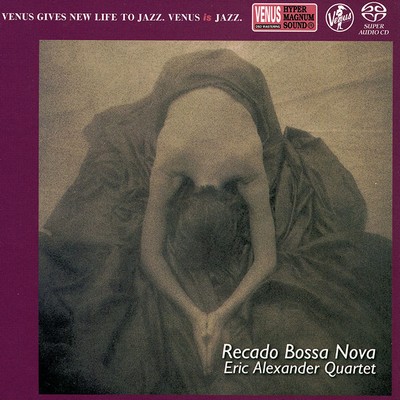 Eric Alexander Quartet – Recado Bossa Nova (2015) [Hi-Res SACD Rip]
SACD-ISO / DSD / 1bit / 2.8224MHz
DSF-Tracks / DSD / 1bit / 2.8224MHz
FLAC Tracks / 24bit / 88.2kHz
Front & Back Covers
Total Size: 1.26 GB (DSF) + 994 MB (FLAC) + 1.85 GB (ISO)
Label: Venus Records | Japan | Cat#: VHGD-63 | Genre: Post Bop
The big star on the Venus Records' roster and one of the top tenor saxophonists of his generation, Eric Alexander's latest release is a Latin jazz album. Leading his regular quartet consisting of the powerful Harold Mabern on piano, Nat Reeves on bass, and Joe Farnsworth on drums, Alexander blows his powerful horn on the bossa nova and Cuban rhythms.
The choices of tunes are varied and interesting, including Hoagy Carmichael's "Two Sleepy People," and Cole Porter's "So In Love" along with an Afro-Cuban staple "Mantica" and bossa nova classics such as "Corcovado" and the title track. A fine outing by one of today's best jazz groups!
Eric Alexander has appeared on record as a leader, sideman, producer, and composer. By now, he has lost count of how many albums feature his playing; he guesses 60 or 70. He has earned praise from critics and, even more important, established his own voice within the bebop tradition.
Tracklist
01. Two Sleepy People [H. Carmichael] – 04:24
02. Mambo Inn [M. Bauza] – 05:53
03. Mantica [D. Gillespie] – 06:33
04. Corcovado [A. C. Jobim] – 06:32
05. Recado Bossa Nova [D. Fereira] – 06:13
06. Here's That Rainy Day [J. Van Heusen] – 06:59
07. Journey [A. Alexander] – 04:30
08. So In Love [C. Porter] – 04:54
———————-
DYNAMIC RANGE
DSF | ISO | FLAC
DOWNLOAD FROM
LMA_EAQ.2015.RBN_SACD-DSF.rar
LMA_EAQ.2015.RBN_SACD-FLAC.rar
LMA_EAQ.2015.RBN_SACD-ISO.rar
———————-
If you encounter broken links or other problem about this publication, please let me know and write your comment below. I will reply and fix as soon as possible.