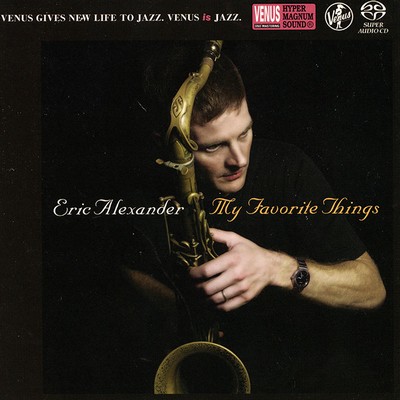 Eric Alexander Quartet – My Favorite Things (2015) [Hi-Res SACD Rip]
SACD-ISO / DSD / 1bit / 2.8224MHz
DSF-Tracks / DSD / 1bit / 2.8224MHz
FLAC Tracks / 24bit / 88.2kHz
Front & Back Covers
Total Size: 1.66 GB (DSF) + 1.18 GB (FLAC) + 2.45 GB (ISO)
Label: Venus Records | Japan | Cat#: VHGD-91 | Genre: Post Bop, Hard Bop
This release from Eric Alexander is a notable one. Venus Records asked the readers of Swing Journal what they would like to hear Alexander play. From that long list of requested songs, Alexander selected the tunes included on My Favorite Things. Many of the selections are well-known jazz tracks heavily associated with tenor saxophone giants of the past. Some of them include "Sugar" by Stanley Turrentine, "Airegin" by Sonny Rollins, and "My Favorite Things" and "Lazy Bird" made famous by John Coltrane.
Tracklist
01. Sugar [S. Turrentine] – 07:14
02. Triste [A. C. Jobim] – 07:23
03. Stella By Starlight [V. Young] – 07:27
04. My Favorite Things [R. Rodgers] – 10:21
05. Airegin [S. Rollins] – 06:20
06. As Time Goes By [H. Hupfield] – 06:51
07. Lover Man [Sherman, Ramirez] – 08:13
08. Lazy Bird [J. Coltrane] – 06:41
———————-
DYNAMIC RANGE
DSF | ISO | FLAC
INFO
DISCOGS
DOWNLOAD FROM
LMA_EAQ.2015.MFT_SACD-DSF.rar
LMA_EAQ.2015.MFT_SACD-FLAC.rar
LMA_EAQ.2015.MFT_SACD-ISO.rar
———————-
If you encounter broken links or other problem about this publication, please let me know and write your comment below. I will reply and fix as soon as possible.