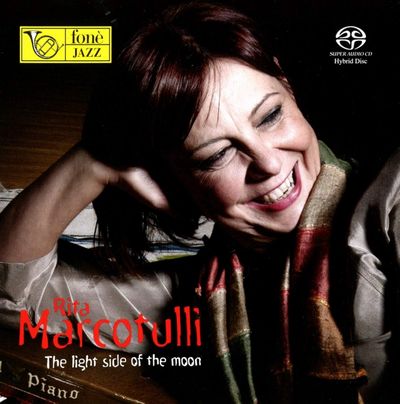 Rita Marcotulli – The Light Side Of The Moon (2006) [2017, Reissue, Hi-Res SACD Rip]
SACD-ISO / DSD / 1bit / 2.8224MHz
DSF-Tracks / DSD / 1bit / 2.8224MHz
FLAC Tracks / 24bit / 88.2kHz
Full Scans Included
Total Size: 863 MB (ISO) + 1.91 GB (DSF) + 937 MB (FLAC) | 3% RAR Recovery
Label: Fonè | Italy | Cat#: SACD182 | Genre: Jazz
Three years after the last album, Koiné, Rita Marcotulli comes out with her first recording in solitude. A work that her admirers have been waiting for for a long time and that the pianist develops along the delicate ridge on which she has always moved when she produces things in her own name, straddling the many stylistic fields within which she has always worked very well in the his career. But also a deeply intimate work, as revealed by the presence of songs like "Us and Them," from Pink Floyd's The Dark Side Of The Moon – whose "luster" gave the album the paraphrased title – like "Love Song," by his friend Anders Jormin, such as "Conversation with the Moon," in which the sound stones of the Sardinian artist Pinuccio Sciola also play, sampled for the keyboard, Of course, it is probable that once again the "purists" of jazz turn up their mouths, expecting a more traditionally jazzy proof from Dewey Redman's pianist. But Rita is not only the one who plays with the great American tenor saxophonist; she is also the one who lived for years in Sweden and there she consecrated herself as a teacher of her instrument, she is the Mediterranean mother who lives in the Umbrian countryside and suffers from the distance from the sea she is the explorer of a thousand musical suggestions that she has encountered over time . Thus, it is the entire Rita Marcotulli that flows into the sound flow, very coherent even in the eclecticity of the references, of The Light Side of the Moon.
A flow expressed with mastery in the touches on the keys, with a precious selection of high tones and a skilful choice of counterpoints, with a balanced and evocative use of pauses and virtuous classical passages. And which manifests itself through delightful melodies, from "The invisible road" to "Koiné," up to "Immaginary Rainbow" and the final, strange dedication to Elettra, which probably owes something to the attendance of Anja Garbarek, and yet as sweet as appropriate to a repertoire made unitary by the root that holds it together. Which is a musical style, an artistic spirit, but above all a person, which emerges from this sort of self-portrait: Rita Marcotulli. ―allaboutjazz.com
Tracklist
01. Waves And Wind – 06:01
02. La Strada Invisibile – 05:28
03. Us And Them – 03:02
04. Koinè – 07:15
05. Love Song – 04:29
06. Conversation With The Moon – 01:38
07. Tuareg – 04:58
08. Misteriosa – 03:08
09. Immaginary Rainbow – 03:53
10. Elettra Magic Stick – 03:13
———————-
DYNAMIC RANGE
ISO | DSF | FLAC
INFO
DISCOGS
DOWNLOAD FROM
LMA_RIMA.2006.TLSOTM.2017_SACD-DSF.rar
LMA_RIMA.2006.TLSOTM.2017_SACD-FLAC.rar
LMA_RIMA.2006.TLSOTM.2017_SACD-ISO.rar
———————-
If you encounter broken links or other problem about this publication, please let me know and write your comment below. I will reply and fix as soon as possible.