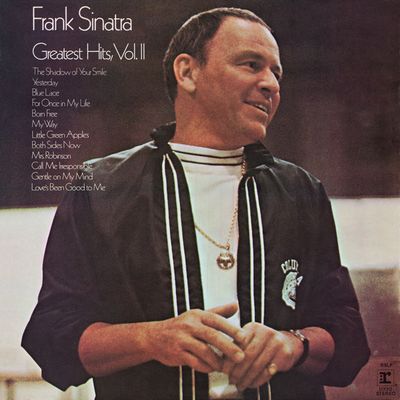 Frank Sinatra – Greatest Hits, Vol. II (1973) [UK version, CD-Quality + Hi-Res Vinyl Rip]
Vinyl Rip | Hi-Res / FLAC Tracks / 24bit / 96kHz | CD-Quality / FLAC Tracks / 16bit / 44.1kHz
Full Scans Included
Total Size: 866 MB (Hi-Res) + 252 MB (CD-Quality) | 3% RAR Recovery
Label: Reprise Records | UK | Cat#: RSLP 1032 | Genre: Vocal Jazz
Frank Sinatra's Greatest Hits, Vol. 2 was Sinatra's second compilation of material released by Reprise Records, which like its predecessor, consisted of singles and songs from movie soundtracks. Vol. 2 picks up where Frank Sinatra's Greatest Hits leaves off, so all of the tracks date from 1968 to 1970, except for "The September of My Years", which dates back to 1965. Though the song "My Way" became Sinatra's signature song, it was not a big hit in the US. In the UK it went to #5 and spent 75 weeks in the Top 40. The highest charting U.S. single in this collection is "Cycles" which peaked at #23. The remaining tracks represent the sound of Sinatra's music in the late 1960s, which was more laid back than his early 1960s swinging tunes, with the B-side "Star!" being a notable exception. Vol. 2 peaked at #88 on the album charts in the summer of 1972 during Sinatra's brief retirement from show business.
UK and European versions, which were released in 1970 under the title Greatest Hits, Vol. II (using a Roman numeral), featured a different cover and lineup of songs. "My Way" and "Love's Been Good To Me" being the only common tracks. Confusingly the original U.S. album was released in France and Italy as Greatest Hits, Vol. 3 in 1973.
Tracklist
SIDE ONE
01. The Shadow of Your Smil – 02:28
02. Yesterday – 03:58
03. Blue Lace – 02:46
04. For Once in My Life – 02:55
05. Born Free – 02:08
06. My Way – 04:38
SIDE TWO
07. Little Green Apples – 05:07
08. Both Sides Now – 03:01
09. Mrs. Robinson – 02:56
10. Call Me Irresponsible – 02:59
11. Gentle On My Mind – 03:28
12. Love's Been Good To Me – 03:27
———————-
LOG
DYNAMIC RANGE
INFO
DISCOGS
DOWNLOAD FROM
CD-Quality
LMA_FrSi.1973.GHVOLII_LP_16-44.rar
Hi-Res
LMA_FrSi.1973.GHVOLII_LP_24-96.rar
———————-
If you encounter broken links or other problem about this publication, please let me know and write your comment below. I will reply and fix as soon as possible.