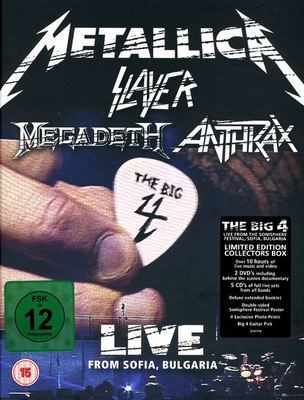 VA – The Big 4: Live From Sofia, Bulgaria (2010) {Limited Edition Collectors Box, 5CD + 2DVD}
EAC Rip | 5xCD | FLAC Image + Cue + Log | Full Scans Included
2xDVD-9 | VIDEO_TS | NTSC 4:3 (720×480) VBR | Dolby AC3, 2ch & 6ch
Subtitle: English, Deutsch, Español, Français, Português, 日本語
Total Size: 2.49 GB (CDs) + 15.3 GB (DVDs) + 276 MB (Scans Box) | 3% RAR Recovery
Label: Universal | EU | Cat#: 06025-274 777-8 (7) | Genre: Thrash Metal
The Big 4: Live from Sofia, Bulgaria, recorded and filmed at the Sonisphere Festival, featured the "Big 4": American metal legends Metallica, Slayer, Megadeth, and Anthrax. The June 22, 2010 show was seen live in hundreds of movie theaters by thousands of fans all over the globe via satellite, broadcast in HD. This box set is the Deluxe Edition of the package and contains a pair of DVDs featuring not only complete performances from all four bands, but also behind-the-scenes and documentary footage. Onscreen an historic high point happens during Metallica's encore (on the second DVD) when members of the other three bands join them for a version of Diamond Head's "Am I Evil?" Metallica's James Hetfield, Megadeth's Dave Mustaine, and Anthrax's Joey Belladonna take turns singing the verses. This marks the first occasion that Mustaine had performed on-stage with his former band since April 9, 1983. In addition to the DVDs, the big box includes five CDs. They contain the entire concert in excellent sound. Metallica has a double disc, while the rest have a disc each. Needless to say, each group turns in a performance of their "hits." That said, each one is incredibly energetic, clearly riding the crowd excitement of the event, and the performances are stellar without a lapse. Each disc makes fine addition to the bands' individual catalogs. Musical highlights include Anthrax's "Madhouse" and "Antisocial"; Megadeth's "Head Crusher" and the "Peace Sells/Holy Wars Reprise"; Slayer's "Angel of Death," "Seasons in the Abyss," and "Raining Blood"; finally, Metallica's "Fade to Black," "Creeping Death," "Master of Puppets," and "For Whom the Bell Tolls" are clear standouts. The set also includes a double silk-screened guitar pick, a four-color booklet, and a double-sided poster. Did we need this? Who cares? As a set, it makes a great gift. For fans of any — or all — of these metal warriors it proves they've stood the test of time musically, and that there is plenty of fire left in their bellies. ― Allmusic
DVD 1 / CD 1 – Anthrax
01. Caught In A Mosh – 6:04
02. Got The Time – 3:43
03. Madhouse – 4:25
04. Be All, End All – 8:01
05. Antisocial – 6:37
06. Indians / Heaven And Hell – 10:10
07. Medusa – 5:53
08. Only – 6:46
09. Metal Thrashing Mad – 3:27
10. I Am The Law – 8:14
DVD 1 / CD 2 – Megadeth
01. Holy Wars … The Punishment Due – 6:33
02. Hangar 18 – 5:04
03. Wake Up Dead – 3:45
04. Head Crusher – 3:18
05. In My Darkest Hour – 5:27
06. Skin O' My Teeth – 3:14
07. A Tout Le Monde – 4:28
08. Hook In Mouth – 4:39
09. Trust – 5:05
10. Sweating Bullets – 4:51
11. Symphony Of Destruction – 4:16
12. Peace Sells – Holy Wars Reprise – 10:23
DVD 1 / CD 3 – Slayer
01. World Painted Blood – 6:26
02. Jihad – 4:32
03. War Ensemble – 5:09
04. Hate Worldwide – 3:12
05. Seasons In The Abyss – 6:25
06. Angel Of Death – 5:35
07. Beauty Through Order – 5:12
08. Disciple – 5:07
09. Mandatory Suicide – 4:14
10. Chemical Warefare – 5:51
11. South Of Heaven – 4:31
12. Raining Blood – 5:40
DVD 2 / CD 4 – Metallica
01. Creeping Death – 8:12
02. For Whom the Bells Tolls – 4:30
03. Fuel – 4:16
04. Harvester of Sorrow – 6:18
05. Fade to Black – 7:32
06. That Was Just your Life – 6:54
07. Cyanide – 7:16
08. Sad But True – 6:34
09. Welcome Home (Sanitarium) – 6:15
10. All Nightmare Long – 7:50
DVD 2 / CD 5 – Metallica
01. One – 8:35
02. Master Of Puppets – 8:06
03. Blackened – 7:58
04. Nothing Else Matters – 5:57
05. Enter Sandman – 11:08
06. Am I Evil? – 6:06
07. Hit The Lights – 5:25
08. Seek & Destroy – 12:41
** DVD 2 Bonus Feature: Behind the scenes documentary, giving you exclusive access to THE BIG 4 backstage at SONISPHERE, including interviews and 'Am I Evil' rehearsal footage.
IMAGE GALLERY & INFO
DVD 1 SCREENSHOTS | DVD 2 SCREENSHOTS | DISCOGS
DOWNLOAD FROM
LMA_VA.2010.TB4.LFB.LECB
———————-
If you encounter broken links or other problem about this publication, please let me know and write your comment below. I will reply and fix as soon as possible.