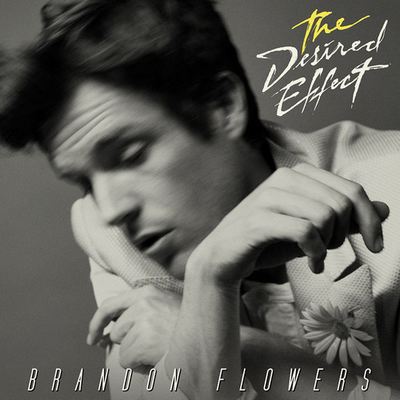 Brandon Flowers – The Desired Effect (2015)
EAC Rip | FLAC Image + Cue + Log | Scans included
Total Size: 279 MB | 3% RAR Recovery
Label: Island Records | Cat#: 00602547265449 | Genre: Synth-Pop
Brandon Flowers' solo debut, 2010's Flamingo, seemed to make the case that the line between a Killers album and a Flowers album was blurry at best. Largely a continuation of the anthemic Springsteen-influenced sound of the Killers' 2006 effort Sam's Town, Flamingo also revealed Flowers' inclination toward glossy, synth-heavy, '80s adult-contemporary productions. For his sophomore solo outing, 2015's The Desired Effect, the line between the man and his band begins to sharpen. Produced by Ariel Rechtshaid (Madonna, Vampire Weekend, HAIM), the album finally finds Flowers achieving an unmistakable sound of his own, with the kind of effortless sophistication that a seasoned musician hopes for. Flowers long ago expanded his musical palette from the Killers' early, Duran Duran-influenced brand of dance-rock, but he's also become much more adept at combining his disparate musical influences and poetic narratives into a cohesive, emotionally resonant approach to expansive pop songwriting. As always, these are catchy, synth heavy songs punctuated by twangy guitar lines and Flowers' trademark lyrical themes, including: emotional turning points in long term relationships, lost souls seeking redemption, and of course, his childhood growing up in Vegas—which is particularly evident on the fittingly titled "Way It's Always Been." He sings, "They shut down the Golden Sahara Hotel/ Jessica says it won't be long til they blow it all to hell/ She's standing in the front yard, cut-offs and skin/ Me and her brother we been friends, since I can't remember when/ Ain't that the way that it's always been?/ Everybody sitting 'round waiting for the son to come again." Elsewhere, Flowers launches into an '80s take on Spector-style wall-of-synth-sound on "Dreams Come True," and mashes up John Fogerty, ELO and Dire Straits on the Roy Orbison-style rock & roll number "Digging Up the Heart." The genius thing about all this is that Flowers doesn't steal Jeff Lynne's hooks or ape Mark Knopfler's guitar sound (well, not exactly), he just imbues his productions with a distinct level of tangible homage. In fact, he's so specific in his aural fixations that you can almost pick out the songs he was listening to when working on a given track. On "Can't Deny My Love," you can almost picture him starting out with the Latin synth-percussion from Madonna's "La Isla Bonita," then bringing in the brittle guitar of Bryan Ferry's "Don't Stop the Dance," before finally punching up the transitions with the percussive synth beats from Neneh Cherry's "Buffalo Stance." And this isn't meant to make Flowers sound derivative. On the contrary, these points of inspiration exist in a sea of original material. Flowers even brings on board a handful of special guests, like Pet Shop Boys' Neil Tennant, on the Giorgio Moroder-esque disco tune "I Can Change," and Bruce Hornsby on the earnest ballad "Between Me and You." These choices work to underline the stylistic touchstones on the album. They also undercut any accusations of derivativeness by openly acknowledging his progenitors. And in the end, we're lucky he was so inspired by them, if the result is an album this solid.
Reviewed by Allmusic
Personnel / Credits:
• All vocals – Brandon Flowers
• Featured vocals – Neil Tennant (Track 3)
• Background vocals – Jake Blanton (Track 9-10), Sherree Brown, Erica Canales (Track 3), Angel Deradoorian (Track 1-2, 4-5, 7), Jackie Gouche, Jason Hill, Akasha Mabry Hendrix, Lynn Mabry, Danielle Withers (Track 3)
• Bass – Jake Blanton (Track 4), Ethan Farmer (Track 2-3, 6, 8), Tony Levin (Track 5), Ariel Rechtshaid (Track 1, 7, 9)
• Cello – Moon-light Tran (Track 1)
• Drums – Kenny Aronoff (Track 8), Darren Beckett (Track 10), Danielle Haim (Track 6), Ronnie Vannucci Jr. (Track 9), Joey Waronker (Tracks 1-2, 4-5, 7-8)
• Guitars – Carlos Alomar (Track 1), Matt Breunig (Track 9-10), Benji Lysaght (Track 1-3, 5, 7-10), Ted Sablay (Track 3)
• Horns – Ron Francis Blake (Track 6), Stephen Giraldo, Francisco Torres, Isaac Tubb, Jeff Driskell, Robert Hardt, Eddie Rich
• Keyboards – Brandon Flowers, Bruce Hornsby (Track 5, 8), Tommy King (Track 2, 5, 8)
• Violins – Lauren Cordell (Track 1, 10)
• Various – 13 Cents (Track 1-10)
Additional Info:
• Recorded Date: 2014–2015, Battle Born Studios, Winchester Vox Recording Studios, Los Angeles Heavy Studios, Los Angeles.
• Released Date: May 15, 2015
• Producer: Ariel Rechtshaid, Brandon Flowers
• More info
Tracklist:
01. Dreams Come True – 04:03
02. Can't Deny My Love – 03:42
03. I Can Change – 04:18
04. Still Want You – 03:11
05. Between Me And You – 04:39
06. Lonely Town – 03:30
07. Diggin' Up The Heart – 03:49
08. Never Get You Right – 03:43
09. Untangled Love – 04:11
10. The Way It's Always Been – 03:5
[su_accordion]
[su_spoiler title="EAC Log" icon="plus-square-1″ style="fancy"]
Click Here[/su_spoiler]
[su_spoiler title="CUETools 2.1.5″ icon="plus-square-1″ style="fancy"]
Click Here[/su_spoiler]
[su_spoiler title="Back & CD label" icon="plus-square-1″ style="fancy"]
[/su_spoiler]
[/su_accordion]
DOWNLOAD FROM

LMA_BrFl.2015.TDE.rar

Password: www.LosslessMA.net

If you encounter broken links or other problem about this publication, please let me know
and write your comment below. I will reply and fix as soon as possible.