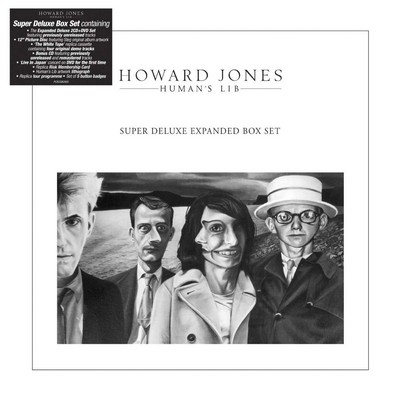 Howard Jones – Human's Lib (1984) [2018, Deluxe Edition, Remastered, 3CD + 2DVD]
EAC Rip | 3x CD | FLAC Image + Cue + Log
2x DVD | NTSC 4:3 (720×480) VBR | LPCM Audio 2.0
Full Scans Included
Total Size: 1.47 GB (CDs) + 10.2 GB (DVDs) + 632 MB (Scans)
Label: Cherry Red | EU | Cat#: PCRCDBOX65 | Genre: Synth-pop
Two six-disc super deluxe editions of both long-players steal the headlines and these are very extensive indeed. They include remastered albums, all the remixes, unreleased rough mixes and demos, two DVDs, picture disc vinyl and in the case of the debut a "white tape replica pre-contract demo cassette containing remastered versions of four original demo tracks". ― superdeluxeedition.com
CD 1 – The Album
01. Conditioning – 04:34
02. What Is Love? – 06:33
03. Pearl In The Shell – 04:00
04. Hide And Seek – 05:39
05. Hunt The Self – 03:42
06. New Song – 04:15
07. Don't Always Look At The Rain – 04:12
08. Equality – 04:28
09. Natural – 04:27
10. Human's Lib – 04:05
11. China Dance – 03:56
Bonus Tracks
12. New Song (Portuguese 7″ Single Mix) – 04:07
13. What Is Love? (Rough Mix) – 03:59
14. Don't Put These Curses On Me (Instrumental) – 03:22
15. Human's Lib (Farmyard Mix) – 03:54
16. Pearl In The Shell (Rough Mix) – 04:11
17. New Song (Mix Take 1) – 04:20
CD 2 – Bonus Tracks
01. New Song (Alternative 12″) – 06:31
02. What Is Love? (Extended Mix) – 06:36
03. Hide And Seek (Extended Version) – 08:34
04. Pearl In The ShellNew Song (Alternative 12″) – 08:59
05. Conditioning (Original Mix) – 04:08
06. New Song (New Extended Mix) – 05:46
07. Hunt The Self (Live At The Marquee) – 05:30
08. Bounce Right Back (Instrumental) – 04:07
09. Total Conditioning – 08:00
10. Law Of The Jungle – 03:18
11. Always Asking Questions (Rough Mix) – 04:05
12. Equality (Rough Mix) – 04:20
13. Hide And Seek (Rough Mix) – 05:48
CD 3 – Previously Unreleased And Remastered Tracks
01. New Song (New Farmyard Mix) – 04:27
02. Always Asking Questions (Farmyard Mix) – 03:43
03. Equality (Farmyard Mix) – 04:33
04. New Song (New Version) – 04:46
05. Love? (Early Version Of What Is Love?) – 03:37
06. Tao Te Ching – 03:54
07. Change The Man – 04:29
08. Bounce Right Back (Live At The Marquee) – 07:27
09. New Song (Extended) – 05:30
10. It Just Doesn't Matter – 03:35
11. Don't Always Look At The Rain (Rough Mix) – 04:08
12. New Song (New Mix Version 2) – 03:32
13. Don't Put These Curses On Me (Kid Jensen BBC Radio 1 Session) – 03:39
14. Natural (Kid Jensen BBC Radio 1 Session) – 04:45
15. New Song (Kid Jensen BBC Radio 1 Session) – 04:55
16. Human's Lib (Kid Jensen BBC Radio 1 Session) – 04:28
DVD 1 – Bonus Tracks
01. Conditioning (Rehearsal At The Gordon Arms, High Wycombe)
02. Human's Lib (Rehearsal At The Gordon Arms, High Wycombe)
03. Equality (Rehearsal At The Gordon Arms, High Wycombe)
04. Risk (Living Room Demo)
05. Dreams Of A Better Place (Living Room Demo)
06. Love? (Living Room Demo)
07. Always Asking Questions (Promo Video)
08. New Song (Top Of The Pops 1983)
09. What Is Love? (Top Of The Pops 1983)
10. What Is Love? (Oxford Road Show 1984)
11. Hide And Seek (Live) (Top Of The Pops 1984)
12. Equality (Old Grey Whistle Test 1984)
13. Don't Always Look At The Rain (Old Grey Whistle Test 1984)
14. Pearl In The Shell (Top Of The Pops 1984)
15. New Song (Promo Video)
16. What Is Love? (Promo Video)
17. Hide And Seek (Promo Video)
18. Pearl In The Shell (Promo Video)
19. Like To Get To Know You Well (London Version) (Promo Video)
DVD 2 – Howard Jones Live At The NHK Hall
01. New Song
02. Tao Te Ching
03. Hunt The Self
04. Pearl In The Shell
05. Bounce Right Back
06. Hide And Seek
07. Always Asking Questions
08. Dreams Of A Better Place
09. Like To Get To Know You Well
10. Equality
11. Natural
12. Conditioning
13. Don't Always Look At The Rain
14. What Is Love?
———————-
LOGS
EAC | CUETOOLS | DVDINFO
IMAGE GALLERY & INFO
DVD SCREENSHOTS | DISCOGS
DOWNLOAD FROM
LMA_HOJO.1984.HL.2018.DE
———————-
If you encounter broken links or other problem about this publication, please let me know and write your comment below. I will reply and fix as soon as possible.