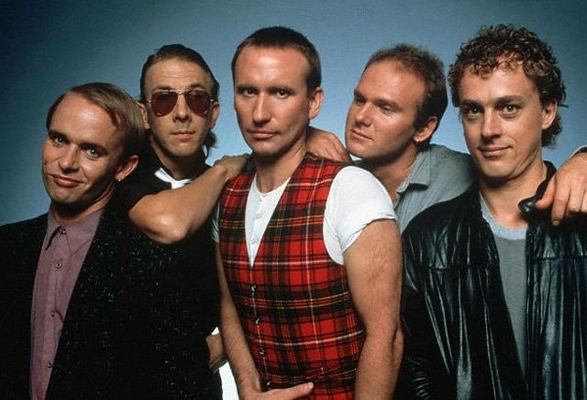 Men At Work – Discography (1981 – 2003)
EAC Rip | 7xCD | FLAC Image + Cue + Log | Full Scans Included
Total Size: 2.86 GB | 3% RAR Recovery
STUDIO ALBUMS | LIVE ALBUM | COMPILATIONS
Label: Various | Genre: New Wave, Pop Rock
Men at Work were one of the more surprising success stories of the new wave era, rocketing out of Australia in 1982 to become the most successful artist of the year. With its Police-styled rhythms, catchy guitar hooks, wailing saxophones, and off-kilter sense of humor, the band's debut album, Business as Usual, became an international blockbuster, breaking the American record for the most weeks a debut spent at the top of the charts. Their funny, irreverent videos became MTV favorites, helping send "Who Can It Be Now?" and "Down Under" to number one. Men at Work's momentum sustained them through their second album, 1983's Cargo, before the bottom fell out of the band's popularity. After releasing Two Hearts in 1985, Men at Work broke up, becoming one of the better-remembered phenomena of new wave.
Colin Hay (lead vocals, guitar), a native of Scotland who moved to Australia at the age of 14, formed Men at Work as an acoustic duo with Ron Strykert (guitar, vocals) in Melbourne in 1979. Within a few months, the duo had expanded to a full group with the addition of John Rees (bass), Greg Ham (saxophone, flute, keyboards), and Jerry Speiser (drums). Over the next two years, the band became regulars at the Cricketer's Arms Hotel bar and on Australia's pub circuit, eventually becoming the highest-paid unsigned band in the country. By 1981, they had landed a contract with Australian Columbia, which released "Who Can It Be Now?" by the end of the year. The single became a huge hit, as did their debut album, Business as Usual, upon its spring 1982 release. Featuring contributions by Hay, Strykert, and Ham, Business as Usual spent ten weeks at the top of the Australian charts, beating a record held by Split Enz's True Colours. The album was released in America in the summer, and within a few weeks "Who Can It Be Now?" began its climb to the top of the U.S. charts. In November, Business as Usual hit the top of the charts, where it would stay for 15 weeks. "Down Under" became the group's second American number one early in 1983, and it became the band's first British hit single; the song reached number one in both countries simultaneously. In February, the band was named the Best New Artist of 1982 at the Grammys.
Men at Work's second album, Cargo, had been recorded during the summer of 1982, but its release was delayed because of the remarkable success of the debut. Largely written by Hay, Cargo reached number three in the U.S. and generated the Top Ten singles "Overkill" and "It's a Mistake." Following an extensive tour, during which the group co-headlined the U.S. Festival with the Clash and the Stray Cats, Men at Work took an extended break in 1984, which caused Speiser and Rees to leave the band. They were replaced by session musicians for the group's third album, 1985's Two Hearts. Though the record went gold in the U.S., it was a considerable commercial disappointment, failing to generate one Top 40 single. Following the release of Two Hearts, the band broke up. Out of the remaining members, Hay was the only one to pursue a solo career, but neither of his two American solo albums — Looking for Jack (1987) and Wayfaring Sons (1990) — were successes. Hay continued to release albums in Australia during the '90s; he also began an acting career. He and Ham re-formed Men at Work in 1996, recording the live hits collection Brazil on tour in South America that year; the album (including a newly recorded bonus studio track) was released in the United States two years later. In subsequent years, Hay and Ham along with guest musicians resurrected the Men at Work name for occasional live appearances. On April 19, 2012, Ham was found dead in his home in Melbourne's Carlton North suburb; he was 58 years old. ― Allmusic
1. STUDIO:
1981. Business As Usual (1990, CBS, CK 37978, USA)
1983. Cargo (1993, Columbia, 983 287 2, UK)
1985. Two Hearts (1985, Columbia, CK 40078, USA)

2. LIVE:
1998. Brazil (1998, Columbia, CK 65732, USA)

3. COMPILATION:
1986. '81-'85 (1986, CBS, CDCBS 450349 2, Australia)
1996. Contraband. The Best of Men at Work (1996, Columbia, 484011 2, Austria)
2003. Definitive Collection (2003, Columbia, 487562 5, Germany)

DOWNLOAD FROM

LMA_MAW.D_Discography

Password: www.LosslessMA.net

If you encounter broken links or other problem about this publication, please let me know
and write your comment below. I will reply and fix as soon as possible.