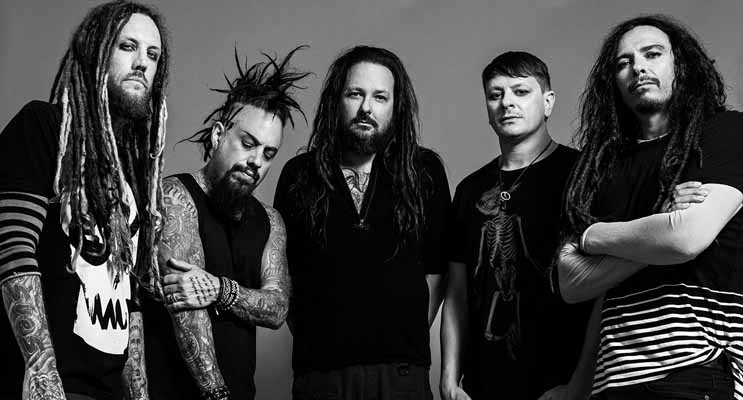 Korn – Discography (1994 – 2014)
EAC Rip | 19xCD + 4xDVD | FLAC Image & Tracks + Cue + Log | Full Scans included
Total Size: 11.2 GB | 3% RAR Recovery
STUDIO ALBUMS | LIVE ALBUMS | COMPILATION | EP
Label: Various | Genre: Alternative Rock, Nu Metal
Korn's cathartic alternative metal sound positioned the group among the most popular and provocative to emerge during the post-grunge era. Korn began their existence as the Bakersfield, California-based metal band LAPD, which included guitarists James "Munky" Shaffer and Brian "Head" Welch, bassist Reginald "Fieldy Snuts" Arvizu, and drummer David Silveria. After issuing an LP in 1993, the members of LAPD crossed paths with Jonathan Davis, a mortuary science student moonlighting as the lead vocalist for the local group Sexart. They soon asked Davis to join the band, and upon his arrival the quintet rechristened itself Korn.
After signing to Epic's Immortal imprint, they issued their debut album in late 1994; thanks to a relentless tour schedule that included stints opening for Ozzy Osbourne, Megadeth, Marilyn Manson, and 311, the record slowly but steadily rose in the charts, eventually going gold. Its 1996 follow-up, Life Is Peachy, was a more immediate smash, reaching the number three spot on the pop album charts. The following summer, they headlined Lollapalooza, but were forced to drop off the tour when Shaffer was diagnosed with viral meningitis. While recording their best-selling 1998 LP Follow the Leader, Korn made national headlines when a student in Zeeland, Michigan, was suspended for wearing a T-shirt emblazoned with the group's logo (the school's principal later declared their music "indecent, vulgar, and obscene," prompting the band to issue a cease-and-desist order). Their annual Family Values tour also started in 1998, featuring a lineup that consisted of Korn collaborators such as Limp Bizkit and Ice Cube and like-minded artists such as Rammstein. The tour was an enormous success, so much so that it continued on with Korn overseeing the lineup for years after. Allmusic
1. STUDIO:
1994. Korn (1994, Immortal, Epic, EPC 478080 2, EU)
1996. Life Is Peachy (1996, Immortal, Epic, EPC 485369 6, EU)
1998. Follow The Leader (1998, Immortal, Epic, EPC 491221 9, EU, 2CD, Special Ed)
1999. Issues (1999, Immortal, Epic, EPC 496359 2, EU)
2002. Untouchables (2002, Immortal, Epic, EPC 501770 2, EU)
2003. Take A Look In The Mirror (2003, Immortal, Epic, EPC 513325 3, EU, CD+DVD, Special Ed)
2005. See You On The Other Side (2005,Toshiba-EMI, TOCP-66510~11, Japan, 2CD, Limited Ed)
2007. Untitled (2007, Virgin, 509995 01484 2 4, USA, CD+DVD, Limited Ed)
2010. Korn III Remember Who You Are (2010, Roadrunner, RR 7757-5, EU, CD+DVD, Special Ed)
2011. The Path Of Totality (2011, Roadrunner, RR7728-5, EU, CD+DVD, Special Ed)
2013. The Paradigm Shift (2013, Universal, UICO-1259, Japan, Limited Ed)
2013. The Paradigm Shift. World Tour Ed (2014, Universal, UICO-1276~7, Japan, 2CD)

2. LIVE:
2006. Live & Rare (2006, Sony Music, EICP 626, Japan)
2007. MTV Unplugged (2007, Toshiba-EMI, TOCP-66673, Japan)

3. COMPILATION:
2004. Greatest Hits Vol. 1 (2004, Sony Music, EICP 398, Japan)

4. EP:
1999. All Mixed Up (1999, Immortal, Epic, A 30388, USA)

———————-
DOWNLOAD FROM
LMA_KRN.D_Discography
———————-
If you encounter broken links or other problem about this publication, please let me know and write your comment below. I will reply and fix as soon as possible.