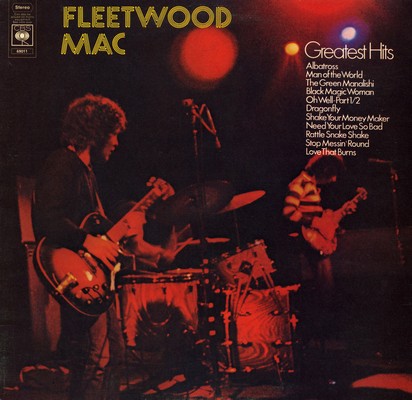 Fleetwood Mac – Greatest Hits (1971) [CD-Quality + Hi-Res Vinyl Rip]
Vinyl Rip | Hi-Res / FLAC Tracks / 24bit / 96kHz | CD-Quality / FLAC Tracks / 16bit / 44.1kHz
Full Scans Included
Total Size: 926 MB (Hi-Res) + 248 MB (CD-Quality)
Label: CBS | UK | Cat#: S 6911 | Genre: Blues Rock
Greatest Hits was the first hits compilation package from the rock band Fleetwood Mac, covering the period from the band's beginning in 1968 to 1971, mostly in its original incarnation led by guitarist Peter Green. Part of the second British blues boom of the late 1960s, Fleetwood Mac enjoyed several hit singles in the UK, collated here for this album issued on CBS Records only in the UK, but available in the US as an import.
The single "Black Magic Woman" received exposure in the US via a cover by the San Francisco group Santana, who placed their version in the Billboard Top 40.
Long out of print, it has been replaced on compact disc by the 2002 compilation The Best of Peter Green's Fleetwood Mac on the Sony International label, which now owns the Columbia/CBS catalogue.
A very similar release with the same title and same cover was released by Sony BMG in 1989, but consisted of the tracks from The Pious Bird of Good Omen plus "Shake Your Moneymaker" and "Love That Burns".
The album gatefold shows a full-size photo of the post-Green line up of the band with Christine McVie (née Perfect), even though she just plays piano on a couple of tracks and was not a full member until after Kiln House was released.
"The Green Manalishi", "Oh Well", "Rattlesnake Shake", and "Dragonfly" were licensed from Warner (then Kinney) and "Man of the World" from Immediate; the others were on Blue Horizon originally.
Tracklist:
01. The Green Manalishi – 04:41
02. Oh Well Part 1 – 03:33
03. Oh Well Part 2 – 05:44
04. Shake Your Money Maker – 02:58
05. Need Your Love So Bad – 03:57
06. Rattle Snake Shake – 03:37
07. Dragonfly – 02:50
08. Black Magic Woman – 02:55
09. Albatross – 03:14
10. Man of The World – 02:54
11. Stop Messin' Round – 02:23
12. Love That Burns – 05:07
13. Jigsaw Puzzle Blues (bonus) – 01:37
14. Somebody's Gonna Get Their Head Kicked In Tonite (bonus) – 02:52
———————-
INFO
DISCOGS
DOWNLOAD FROM
Hi-Res
LMA_FlMa.1971.GH_LP_24-96.part1.rar
LMA_FlMa.1971.GH_LP_24-96.part2.rar
CD-Quality
LMA_FlMa.1971.GH_LP_16-44.rar
———————-
If you encounter broken links or other problem about this publication, please let me know and write your comment below. I will reply and fix as soon as possible.