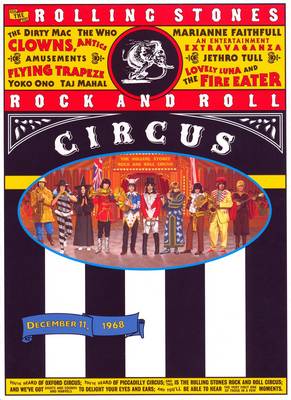 The Rolling Stones – Rock And Roll Circus (1996) [2004, DVD]
DVD-9 | VIDEO_TS | PAL 4:3 (720×576) VBR | Dolby AC3, 2ch & 6ch / LPCM, 2ch
Subtitle: English, French, Spanish, Portuguese, German
Total Size: 7.02 GB | 3% RAR Recovery
Label: ABKCO Films | EU | Genre: Classic Rock, Blues Rock, Hard Rock
The Rolling Stones Rock and Roll Circus is a film released in 1996 of an 11 December 1968 event organized by the Rolling Stones. The event comprised two concerts on a circus stage and included such acts as the Who, Taj Mahal, Marianne Faithfull, and Jethro Tull. John Lennon and his fiancee Yoko Ono performed as part of a supergroup called the Dirty Mac , along with Eric Clapton, Mitch Mitchell, and Keith Richards. The original line up was going to be the Faces, the Rolling Stones and the Who and the concept of a circus was first thought up between Mick Jagger, Pete Townshend and Ronnie Lane and was originally meant to be aired on the BBC, but the Rolling Stones withheld it. The Stones contended they did so due to their substandard performance, because they had taken the stage early in the morning and were clearly exhausted.[citation needed] Many others believe that the true reason for not releasing the video was that the Who, who were fresh off a concert tour, upstaged the Stones on their own production. Led Zeppelin were also originally considered but the idea was also dropped.
Setlist:
• Unknown Artist – Entry Of The Gladiators
• Jethro Tull – Song From Jeffrey
• The Who – A Quick One While He's Away
• Unknown Artist – Over The Waves
• Taj Mahal – Ain't That A Lot Of Love
• Marianne Faithfull – Something Better
• The Dirty Mac – Yer Blues
• Yoko Ono And Ivry Gitlis With The Dirty Mac – Whole Lotta Yoko
• The Rolling Stones:
– Jumping Jack Flash
– Parachute Woman
– No Expectations
– You Can't Always Get What You Want
– Sympathy For The Devil
– Salt Of The Earth
• Sideshows:
– Pete Townshend – Interview
– Taj Mahal – Checkin Up On My Baby
– Taj Mahal – Leavin Trunk
– Taj Mahal – Corinna
– Julius Katchen – Ritual Fire Dance Sonata In C 1st Movement
– The Dirty Mac – Yer Blues TK2 Quad Split
– The Rolling Stones – Sympathy For The Devil (Fatboy Slim Remix Video)
———————-
LOG
MEDIAINFO
IMAGE GALLERY & INFO
DVD SCREENSHOTS | DISCOGS
DOWNLOAD FROM
LMA_ThRo.2004.RARC_DVD.part01.rar
LMA_ThRo.2004.RARC_DVD.part02.rar
LMA_ThRo.2004.RARC_DVD.part03.rar
LMA_ThRo.2004.RARC_DVD.part04.rar
LMA_ThRo.2004.RARC_DVD.part05.rar
LMA_ThRo.2004.RARC_DVD.part06.rar
LMA_ThRo.2004.RARC_DVD.part07.rar
LMA_ThRo.2004.RARC_DVD.part08.rar
———————-
If you encounter broken links or other problem about this publication, please let me know and write your comment below. I will reply and fix as soon as possible.