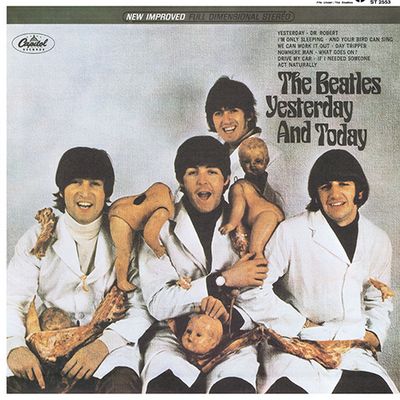 The Beatles – Yesterday And Today (1966) [CD-Quality + Hi-Res Vinyl Rip]
Vinyl Rip | Hi-Res / FLAC Tracks / 24bit / 96kHz | CD-Quality / FLAC Tracks / 16bit / 44.1kHz
Full Scans Included
Total Size: 647 MB (Hi-Res) + 201 MB (CD-Quality) | 3% RAR Recovery
Label: Capitol | US | Cat#: ST 2553 | Genre: Classic Rock, Rock & Roll
Yesterday…and Today was the last Beatles album to be created exclusively for the American market without the group's direct consent, and its tumultuous history seemed to bring the issue of those albums to a head, both for the group and Capitol Records. Owing to business and market differences between England and America, the label had reconfigured every one of the group's long-players in America up to that point, and also generated a few LPs out of singles, B-sides, and EP tracks that had no U.K. equivalent on 12″ vinyl — the Beatles had tolerated it all quietly in the early days, content to go along amid the whirlwind of success they were riding, even in the face of such abominations as the original U.S. Help! album. By 1966, however, they were on a firmer footing, and well past being wide-eyed teenagers from the north of England; they'd also begun to express themselves creatively in media beyond music, and take themselves a bit more seriously, and having a bit more fun as well — by the spring of 1966, after all, they were neck-deep into the making of the Revolver album. When confronted with what should have been a routine matter, the proposed 11-song U.S.-only Yesterday…and Today, assembling a bunch of single sides and leftover U.K. LP tracks, they delivered the notorious "butcher cover," depicting the quartet in butcher smocks, handling cuts of meat and pieces of dismembered baby dolls — it was all their comment on how strangely albums like this one seemed to chop up pieces of their history and repertory. Somehow, Capitol Records' executives went along with gag and approved the initial design, and a print run of the album was ordered up, anticipating the usual six-figure release-date demand for a "new" Beatles LP. Then the negative reactions started coming in from record chain buyers and disc jockeys, and Capitol was soon faced with a crisis — everybody seemed to find the cover tasteless and even grotesque, and it was possible some department store chains would refuse to stock the album. A new, tamer photo replaced the original cover, and untold thousands of copies of the original "butcher cover" sleeves were pasted over with the new picture. In the end, between the junking of artwork and some jackets, and the overtime needed to salvage the inventory, Yesterday…and Today ended up as the only U.S. Beatles album to show a loss on Capitol's books. From that point forward, there would be better coordination between England and America to prevent such near-disasters. As for the album itself, Capitol assembled four songs that had been removed from the British version of Rubber Soul, the singles "Yesterday," "We Can Work It Out," and "Day Tripper," a pair of B-sides, and offered a "preview" of the upcoming Revolver album (released seven weeks later) in the form of "And Your Bird Can Sing" and "Doctor Robert" (neither one in its final mix). Amazingly, despite origins ranging across 18 months of the band's history, it all hung together very well, with the country-influenced "Act Naturally" and "What Goes On" — both heavily featuring Ringo Starr — adding some unexpected roots rock elements amid the cutting-edge, riff-driven glories of "Day Tripper" and others, and the latter contrasting beautifully with McCartney's romantic classic "Yesterday." Despite being thrown together in a blender, the album could stand next to almost any of the competition in the summer of 1966, though it became clear with the release of Revolver, two months later, that the band had left most of the sounds represented here far behind them. ― Allmusic
Tracklist
Side 1
01. Drive My Car – 02:28
02. I'm Only Sleeping – 03:00
03. Nowhere Man – 02:42
04. Dr. Robert – 02:14
05. Yesterday – 02:04
06. Act Naturally – 02:28
Side 2
07. And Your Bird Can Sing – 02:01
08. If I Needed Someone – 02:20
09. We Can Work It Out – 02:13
10. What Goes On? – 02:46
11. Day Tripper – 02:51
* Tracks 2, 4 and 7 are fake stereo mixes.
———————-
LOG
DYNAMIC RANGE
INFO
DISCOGS
DOWNLOAD FROM
Hi-Res
LMA_THBE.1966.YAT_VINYL_24-96.rar
CD-Quality
LMA_THBE.1966.YAT_VINYL_16-44.rar
———————-
If you encounter broken links or other problem about this publication, please let me know and write your comment below. I will reply and fix as soon as possible.