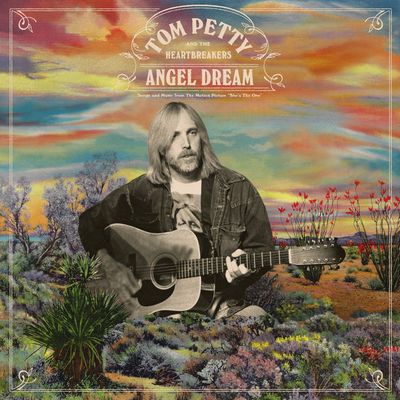 Tom Petty And The Heartbreakers – Angel Dream (2021) [WEB Hi-Res]
WEB Download | Hi-Res / FLAC Tracks / 24bit / 96kHz
Total Size: 0.98 GB | 3% RAR Recovery
Label: Warner Records | Genre: Classic Rock, Blues Rock
To celebrate the 25th anniversary of the release of "She's The One," we are releasing a remixed, remastered and re-imagined version of this album. The original album included several songs that were left off the original Wildflowers album (recently included as the "All The Rest" disc in the "Wildflowers & All The Rest" re-issue), so this re-release is an appropriate ending to the campaign celebrating the Wildflowers-era. Ryan Ulyate (Tom's long-time engineer and producer) has remixed the audio, and the song selection is designed to work as a Tom Petty And The Heartbreakers album, rather than a soundtrack album. Four unreleased tracks have been added; the rocker "105 Degrees" (written by Petty), a cover of JJ Cale's "Thirteen Days", "One of Life's Little Mysteries" (another Petty original), and an instrumental ("French Disconnection") in the same vein as the instrumentals on the original album. An extended version of "Supernatural Radio" is also included.
The new title is a reference to one of the stand-out tracks on the album, for which there will be a video. The new album will have brand new artwork, and this version will replace the existing physical versions of "She's The One." ― Amazon
Tracklist
01. Angel Dream (No. 2) – 02:28
02. Grew Up Fast – 05:09
03. Change the Locks – 04:54
04. Zero From Outer Space – 03:05
05. Asshole – 03:11
06. One of Life's Little Mysteries – 03:10
07. Walls (No. 3) – 03:01
08. Thirteen Days – 03:36
09. 105 Degrees – 03:11
10. Climb That Hill – 03:55
11. Supernatural Radio (Extended Version) – 06:03
12. French Disconnection – 02:20
———————-
LOG
DYNAMIC RANGE
INFO
SOURCE
DOWNLOAD FROM
LMA_TPATH.2021.AD_WEB_24-96.rar
———————-
If you encounter broken links or other problem about this publication, please let me know and write your comment below. I will reply and fix as soon as possible.